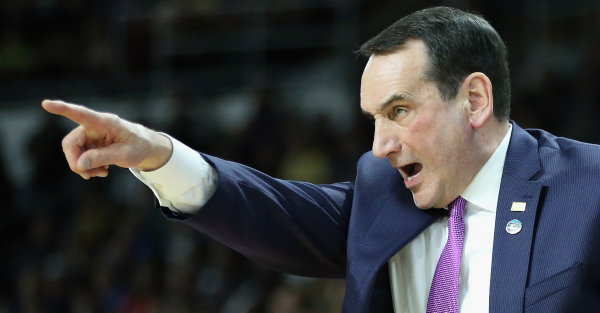 RELATED: Coach K issues apology for Dillon Brooks incident
______________________________________________________________________________________________
Duke coach Mike Krzyzewski made some serious headlines for his incident with Oregon player Dillon Brooks and then again for lying about what he said. Apparently, this isn't the first time something like this has happened between Coach K and a player though where Krzyzewski says that a player is "too good to celebrate" beating Duke.
Via R.L. Bynum, here's a story on a 2007 Virginia Tech upset win over Duke (it was fun to beat that J.J. Redick-led team), in which Hokie guard Zabian Dowdell reportedly bumped chests with a teammate and popped his jersey in front of the Duke fans. Krzyzewski brought it up with Dowdell after the game.
"He just told me I'm too classy of a guy to be carrying on like that," said Dowdell.

On Monday's ACC teleconference, Roanoke Times reporter Mark Berman attempted to bring it up, but was interrupted by Krzyzewski – repeatedly.

"I understand you did speak to Zabian Dowdell about how he was celebrating," Berman started.

"No, no, I just congratulated him," Krzyzewski said. "I respect the heck out of him. He's a great kid and that's enough said. He was fabulous. That's the main message that was made."

"He said …"

"That's all I'm going to say about it because I admire the kid and I admire the program and it was a [great] win for them and I'll say that forever."

"You …"

"That's all I'm going to say about it," Krzyzewski said.
That sounds pretty familiar, doesn't it? It's almost the same exact response and deflection afterward. Maybe Coach K should just accept a loss with more dignity. I don't think we're going to have the next 1976 Hoosiers out here any time soon so there will be losses. Just deal with it.
[h/t Deadspin]