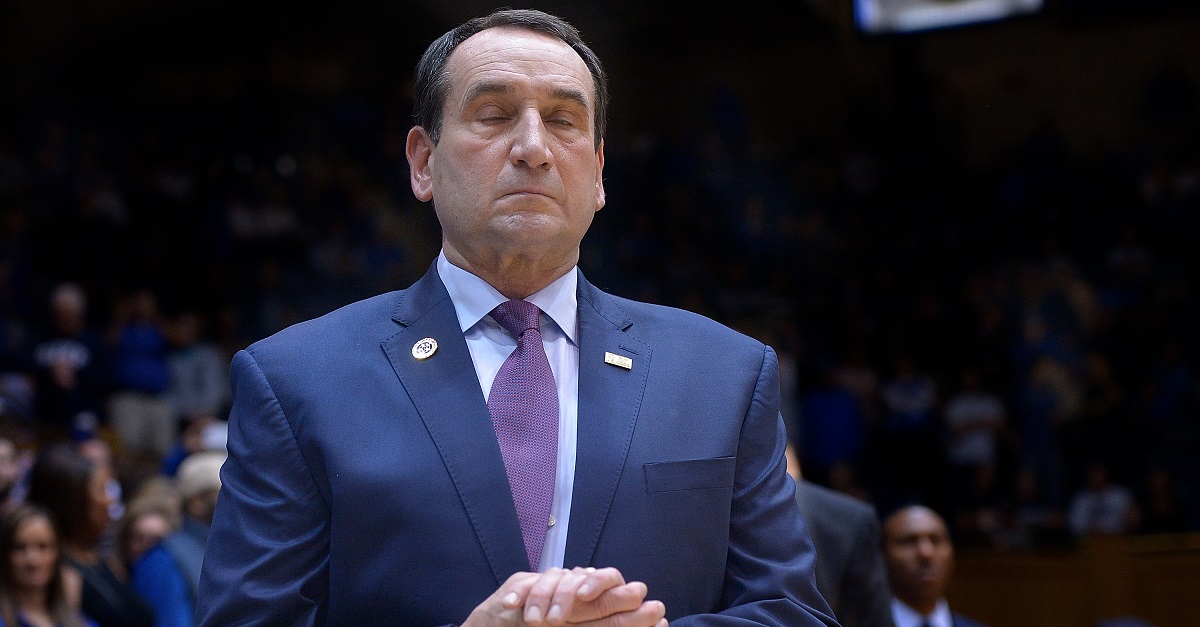 Grant Halverson/Getty Images
DURHAM, NC - JANUARY 04: Head coach Mike Krzyzewski of the Duke Blue Devils waits for the start of the game against the Georgia Tech Yellow Jackets at Cameron Indoor Stadium on January 4, 2017 in Durham, North Carolina. (Photo by Grant Halverson/Getty Images)
With one of the best recruiting classes in the history of the sport, what awaits college basketball now that the Duke Blue Devils have all the players? A combination of greatness, crazy expectations, and insane narratives.
We should all be here for it.
It is with that hyperbole, coupled with it being Duke, that makes Coach K's landing of Zion Williamson, Cam Reddish, and R.J. Barrett — the top three recruits of the 2018 class — so exciting.
Without overthinking it, one of the largest things to take from this entire 2018 recruiting class is that, at 70-years-old, Coach K might be doing his best work of his career. He's not too far removed from being the face of the anti-one-and-done movement, with everyone assuming his retirement was impending, but here we are in 2018, and Mike Krzyzewski out Calipari'ed John Calipari.
The naysayers, those wanting to already subscribe to negative anecdotes, will point to roster construction as a possible issue. That, maybe, the three mega-recruits play similar positions in a way that will prevent each — or any — from hitting their ceilings as college players. Maybe that's true. It also ignores what the idea of their collective can mean.
Williamson, who is flawed as a shooter, won't be asked to be a dominant scorer. A top-three recruit, on offense, will likely be asked to play third-ish fiddle. Maybe lower if certain members of this season's team returns for another go at it.
Let that wash over you like a cold shower. One of the nation's very best high school players will unlikely be asked to do anything other than excel in the areas he's already elite in. That's a luxury rarely afforded to someone of Williamson's stature.
Williamson is dominating the headlines this week, as the walking highlight reel can make the most mundane pessimists giddy in the bellies with YouTube clips, it is Barrett's voyage to Durham that's the most important. In no less hyperbolic terms: The Canadian Sensation is all that and a bag a chips… with a side order of stone cold killer soda.
Barrett, who reclassified from the 2019 class to join the 2018 pool, is likely most known to the casual fan as the kid from up North who lit up the United States team in the FIBA U-19 games — you know, as a then 17-year-old.
Back in early July, Barrett scored 38 points (on 12-for-24 shooting), grabbed 13 boards and dished five dimes in the supposed upset of the US squad. He was already the No. 1 recruit of the 2019 class at the time, but his mythology as an other worldly beast went to the next-level. He was no longer only the insanely hyped prospect, but projections of generational-level talent began to emerge.
Bluntly put: R.J. Barrett is good at basketball. He's an eater-of-worlds, a soul devouring demigod. So good, despite reclassifying an entire year ahead of schedule, most still expect him to be the best freshman in the country next season.
We can continue to talk about what this means for the Blue Devils, but we'd be slightly dishonest if that's the discussion we remain having. Often, it doesn't matter the number of stars attached to any single kid's name, as the recruiting experts aren't always correct in their assessments. And, while I will beat the Barrett drum until we start making crazy comparisons, we won't know how great those three players' great is until they actually step foot on a collegiate hardwood.
However, while people moan and gripe on social media over all the talent going to Duke, there is a direct positive fallout for those outside the Duke bubble. Fans get to hate on them as the evil empire, per the usual, except to new degrees of insanity.
If/when the Blue Devils lose next season, the reactions won't be tempered. It won't be about them needing time to gel or some learning curve being afforded to the roster. Rather, there will be jokes about Coach K, or the claiming of the players and/or Hall of Fame coach to be overrated, as well as the other tomfoolery that will take place on the mean streets of social media.
That might not seem incredibly new, but here is where things can get dangerously fun.
Tie the idea of how much people hate Duke, the idea of Blue Devils, and the ageless Coach K into the notion that the 2018-19 version of the program might be too fun to ignore enjoying. We can theoretically see fans in one of the weirdest sports-related conundrums. Wanting to hate a team out of history, yet wrestling with enjoying the brilliance radiating off the court.
No one actually knows how good Duke will be next season or what players from this year's team will return to help aid in a great voyage. What we do know, though, is all the cards are lined up for greatness, and with that, all the pitfalls that come with failing to reach it — or, as swell, actually reaching that level of excellence.
There's the transcendent and polarizing program in Duke. The historically great coach in Mike Krzyzewski. The generational talent in R.J. Barrett. A walking highlight reel named Zion Williams. Not to mention, the now somehow overlooked, skilled Cam Reddish.
What could go wrong? Everything… or nothing. And that, my friends, is why this is all so brilliant.
Are you not entertained?