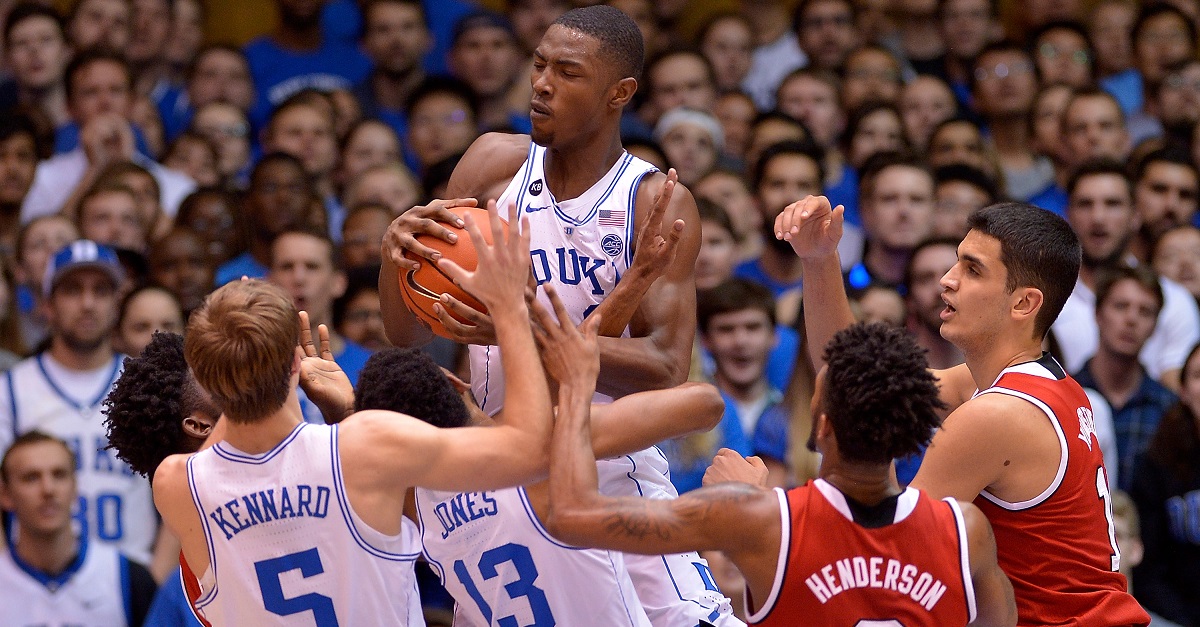 Grant Halverson/Getty Images
DURHAM, NC - JANUARY 23: Harry Giles #1 of the Duke Blue Devils pulls down a rebound against the North Carolina State Wolfpack during the game at Cameron Indoor Stadium on January 23, 2017 in Durham, North Carolina. (Photo by Grant Halverson/Getty Images)
Interim Duke basketball coach Jeff Capel III recently revealed via The Players' Tribune that his father, Jeff Capel II, was diagnosed with ALS.
Related: Duke upended by mediocre N.C. State squad 
The elder Capel coached at Old Dominion from 1994-2001, and he led the Monarchs to NCAA tournament appearances in 1995 and 1997. He also coached at Fayetteville State and North Carolina A&T, and he was an assistant with the Charlotte Bobcats and Philadelphia 76ers.
He was diagnosed with amyotrophic lateral sclerosis by Duke doctors, and the younger Capel said his father is continuing to fight the disease. In the Players' Tribune piece, he wrote extensively about Capel's family tree, which includes Capel II and his brother, Jason, who played at North Carolina.
"My dad's ALS, I am sad to report, continues to progress," he wrote. "We are fighting — always fighting — but still, in the end, we are remaining realistic. The truth is: ALS will take my dad's speech; and it will take my dad's movement; and yes, there is a good chance that it will eventually take his life.
But it ain't ever coming for his tree."
Capel III is filling in for Coach Mike Krzyzewski after Coach K underwent back surgery earlier in January.
(h/t AP)