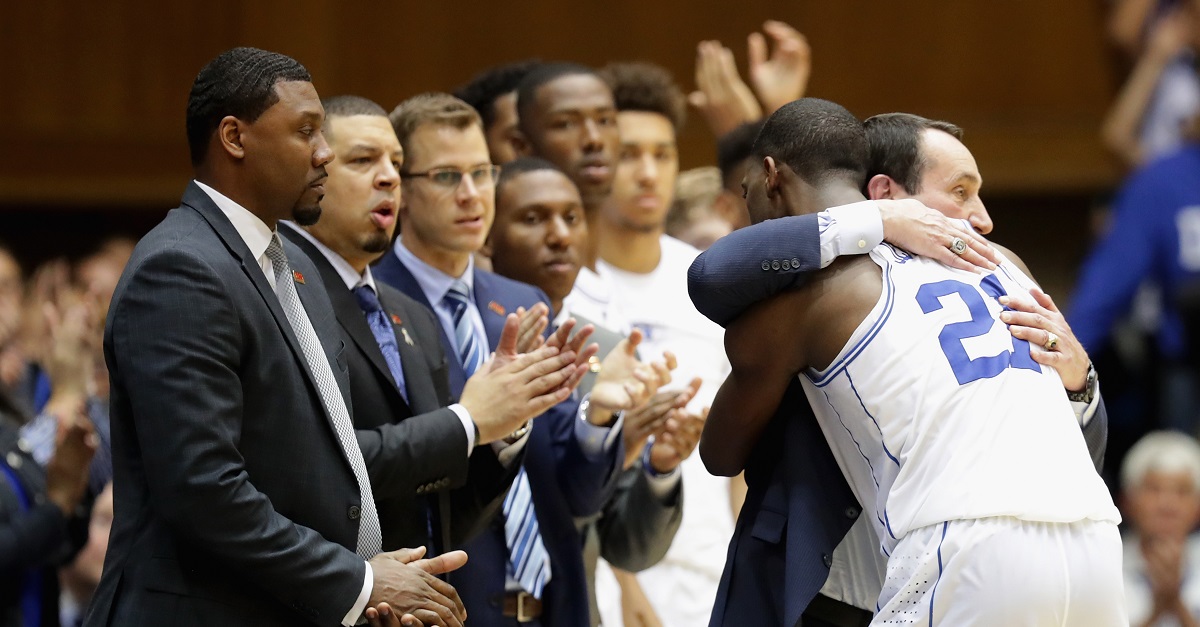 Streeter Lecka/Getty Images
DURHAM, NC - FEBRUARY 28: Head coach Mike Krzyzewski of the Duke Blue Devils hugs his player Amile Jefferson #21 of the Duke Blue Devils during their game against the Florida State Seminoles at Cameron Indoor Stadium on February 28, 2017 in Durham, North Carolina. (Photo by Streeter Lecka/Getty Images)
If you've been to a Duke game in the last 37 years, you have mostly likely seen one of the team's biggest fans sitting behind the bench. Steve Mitchell had done that for every game and was usually wearing a Duke hat and sunglasses while sitting right behind Coach K and the bench.
Unfortunately, Mr. Mitchell passed away recently and will truly be missed as a familiar face and sight for fans of the team. You can read his obituary, which can be found here and you can sign his guestbook as well.
This is a video from The Herald Sun showing Mitchell enjoying a game from afar:
Mitchell became known as "The Man Behind Coach K" and was one of the biggest fans of the team, if not the absolute biggest. Coach K had gone out of his way to acknowledge Mitchell and clearly cared for the superfan to have him behind the bench for so many years.
How Mitchell became Coach K's longtime "bench man" is also a pretty classic tale as told by The News & Observer. Mitchell ended up landing behind Kryzyewski thanks to his brother and his construction company. When Coach K was hired in 1980, Mitchell's brother, Crafton, was the one fixing up the house for the coach and his family. His brother asked how Steve could get a ticket, which was his big Christmas wish that year, to which the coach responded that he could sit behind him.
That kept going for the rest of the year and once the season was over, Mitchell sent the coach a thank you letter asking if they could do it again next season. That became tradition each season, as he received a handshake from the coach before every home game and has been right behind Coach K ever since.
Mitchell was also a hero as he actually saved his sister from drowning during an epileptic seizure and was not only recognized by North Carolina Governor James Hunt, but also President Jimmy Carter. Hunt gave Mitchell the Governor's Award for Bravery and Heroism for saving his sister's life while the President sent him a handwritten letter calling him "a hero."
[h/t Duke Basketball Report]