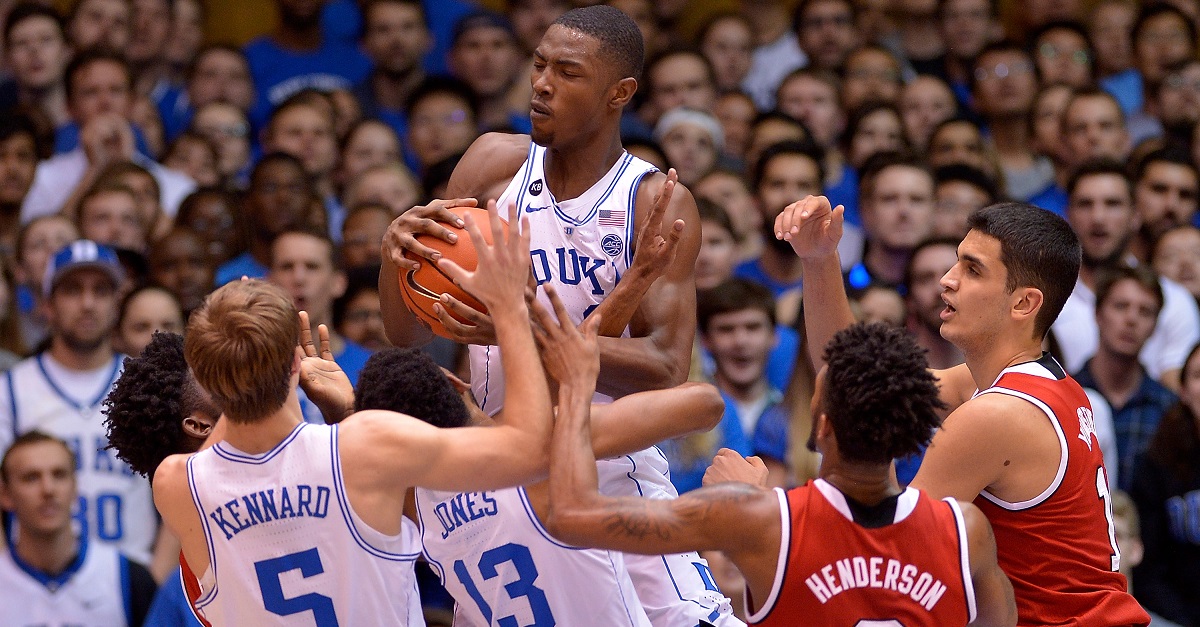 Grant Halverson/Getty Images
DURHAM, NC - JANUARY 23: Harry Giles #1 of the Duke Blue Devils pulls down a rebound against the North Carolina State Wolfpack during the game at Cameron Indoor Stadium on January 23, 2017 in Durham, North Carolina. (Photo by Grant Halverson/Getty Images)
No. 17 Duke was hosting in-state rival N.C. State on Monday night and should have easily beaten a Wolfpack team that had been struggling in ACC play and lost at UNC by more than 50 points just a couple weeks ago. But when you have a potential lottery pick in Dennis Smith Jr., anything is possible and Duke knows that after a 84-82 loss to NCSU.
RELATED: Duke's bench gets shorter with latest injury
The win was the first one in Cameron Indoor Stadium for N.C. State since January of 1995 and coincidentally Coach K was also not coaching that game. Smith scored 32 points and dished out six assists in the win and got help with 19 points and nine rebounds from Abdul-Malik Abu. The Wolfpack shot a blistering 50.9 percent from the floor while the Blue Devils shot about 47 percent, but also only shot 29 percent from beyond the arc.
RELATED: Grayson Allen gets caught in the middle of more drama against N.C. State
Duke's high scorer was Luke Kennard with 20 points while Jayson Tatum had 16 points and 10 rebounds, which was his 12th straight game in double figure scoring. The loss was the third in the last four games for the Blue Devils who have struggled in conference play since Coach underwent his back surgery.