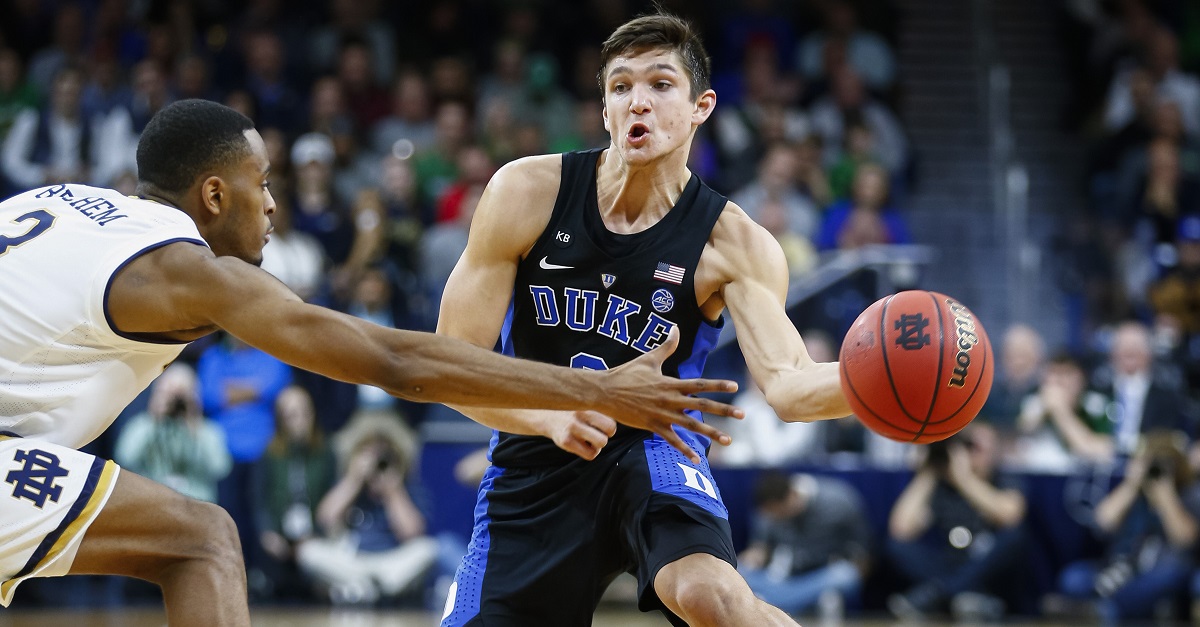 Michael Hickey/Getty Images
SOUTH BEND, IN - JANUARY 30: Grayson Allen #3 of the Duke Blue Devils passes the ball around V.J. Beachem #3 of the Notre Dame Fighting Irish at Purcell Pavilion on January 30, 2017 in South Bend, Indiana. (Photo by Michael Hickey/Getty Images)
Duke saw itself go down a few spots in the AP Poll because of a pretty terrible loss to N.C. State last week. However, they got a redemption win at Wake Forest thanks to an improbable run at the end of the game to win 85-83. So why shouldn't an 84-74 win against Notre Dame have some improbability to it too?
RELATED: Luke Kennard comes up clutch in huge comeback win for Duke
The Blue Devils haven't won at Notre Dame since 1995, but changed that with a 21-point outburst from Grayson Allen and some great performances from the starters. Jayson Tatum had 19 points and 14 rebounds while Luke Kennard and Matt Jones chipped in 16 points apiece.
Duke was absolutely on fire shooting over 50 percent from the floor and over 40 percent from beyond the arc. The Blue Devils even went 23-of-24 from the free throw line while the Fighting Irish had four players in double figures, which somehow wasn't enough at home.