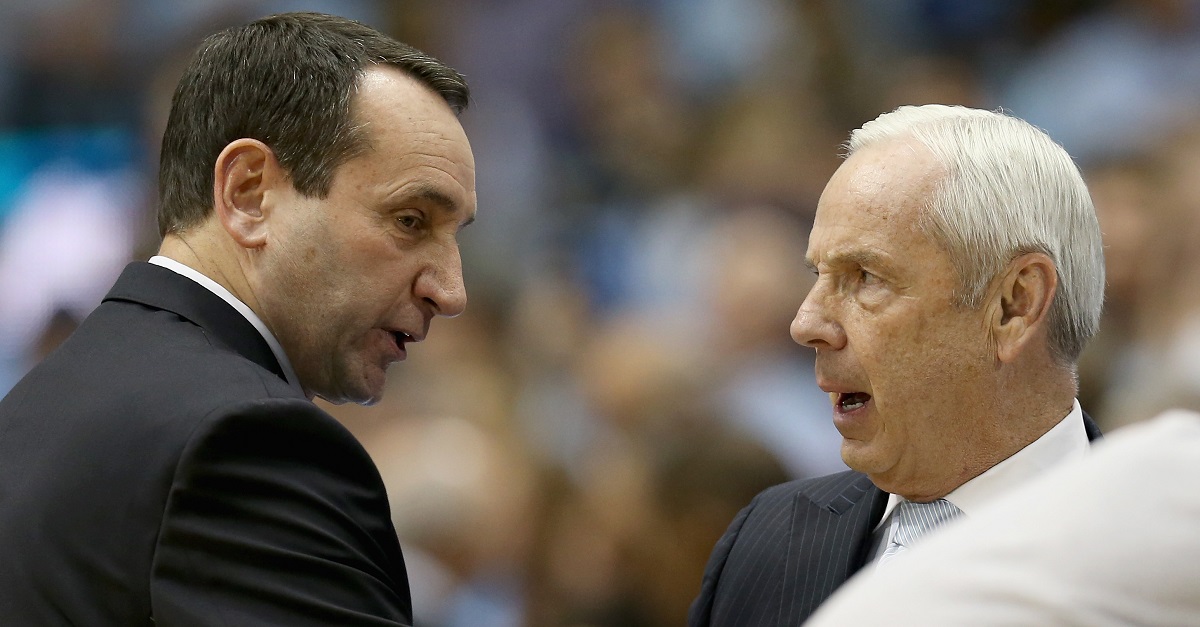 Streeter Lecka/Getty Images
CHAPEL HILL, NC - FEBRUARY 17: (L-R) Head coach Mike Krzyzewski of the Duke Blue Devils talks to head coach Roy Williams of the North Carolina Tar Heels before their game at Dean Smith Center on February 17, 2016 in Chapel Hill, North Carolina. (Photo by Streeter Lecka/Getty Images)
Duke's famed Krzyzewskiville is going to be a lot more Centralia than college basketball hub for a short period of time. The university has been forced to remove students from the famed makeshift, tent-filled village.
For those unaware, Krzyzewskiville is where all the Duke students camp prior to all major games, which definitely include those against the North Carolina Tar Heels. While those outside that bubble might find it lame, the students do so in attempts to land the best seats for one of college basketball's biggest rivalries.
As for those who missed the Centralia reference, shame on you, but also: That town was claimed under eminent domain in 1992, making it condemned by the Commonwealth of Pennsylvania due to coal mine fires happening underneath it.
Basically, both Krzyzewskiville and Centralia are ghost towns. Get it?
Anyway, via ESPN, who got a copy of a letter sent to students:
Larry Moneta, Duke's vice president for student affairs, said in a letter to parents that the school has "elected to take a cautious approach" but hopes to have Krzyzewskiville back to normal soon.
The Blue Devils aren't scheduled to face the Tar Heels at home until March 3. There is still time for this entire small village of Krzyzewskiville to be saved from the wrath of the flu.