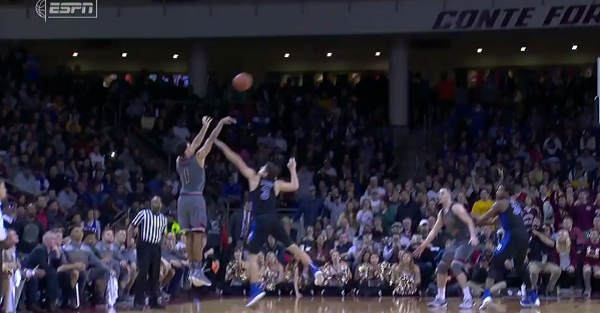 bbornstein33/Clippit
bbornstein33/Clippit
No. 1 Duke has had some pretty close calls already this season and it looks like they couldn't quite hold on for another time this season. In their first ACC game of the season against Boston College, Duke suffered an 89-84 loss, which marked the first time since 2009 that BC had beaten Duke.
With the Eagles down with about a minute left in the game, they got a huge lift from this three-pointer that put them up
Boston College would get a flagrant foul called in their favor and then made their free throws to put the game away late. Grayson Allen finished with 14 points, five steals, six assists and two rebounds. Gary Trent Jr. was the high scorer for Duke with 25 while BC's Ky Bowman led all scorers with 30 points and nine assists for the game.
This will undoubtedly knock the Blue Devils out of the top spot in the AP Poll and they will have to wait another week to break UCLA's record for most weeks atop the AP Poll.