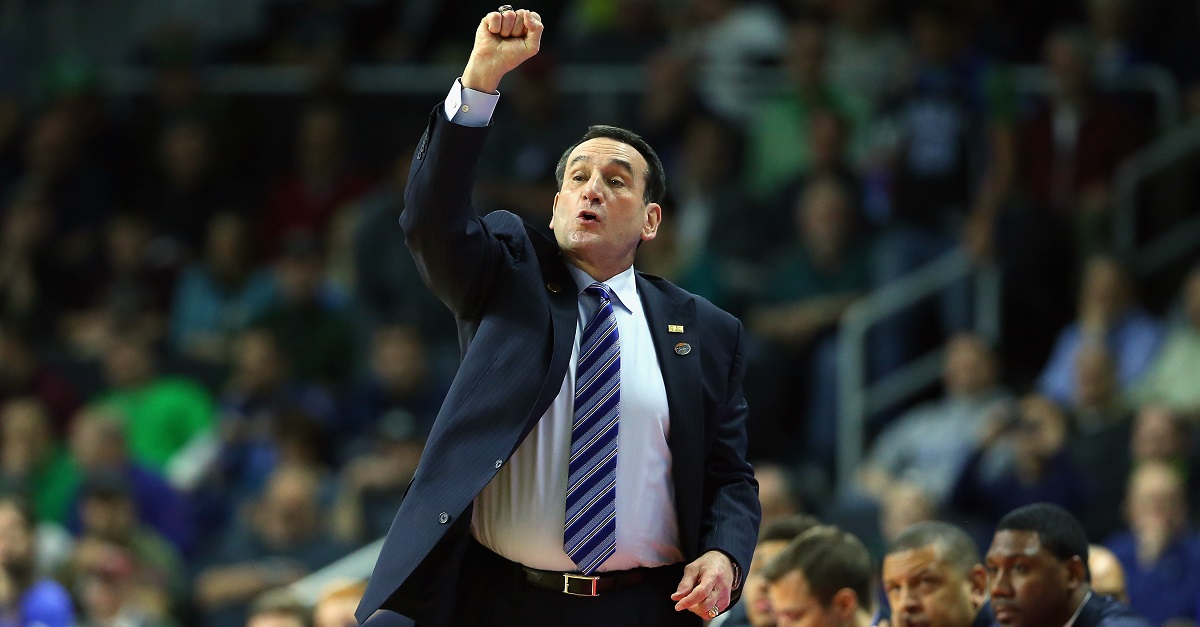 Jim Rogash/Getty Images
PROVIDENCE, RI - MARCH 17: Head coach Mike Krzyzewski of the Duke Blue Devils gestures in the first half of the game against the North Carolina-Wilmington Seahawks during the first round of the 2016 NCAA Men's Basketball Tournament at Dunkin' Donuts Center on March 17, 2016 in Providence, Rhode Island. (Photo by Jim Rogash/Getty Images)
2016's top recruit in Harry Giles has had a lot of expectations heaped on him since he was ranked as the top recruit in the class. However, he didn't get to meet any of those his senior year of high school because of an ACL tear in his right knee. He was all set to come in and contribute major minutes for Duke and he was expected to be the No. 3 pick in the 2017 NBA Draft, but he had another knee problem.
RELATED: Harry Giles proves he's healthy with this nasty throwdown
Giles underwent an arthroscopy on his left knee — the same knee in which he tore his MCL, ACL and meniscus in 2013 during his sophomore season of high school — on Monday and coach K commented on the procedure.
"We're very pleased with the outcome of today's procedure. This is the right step for Harry at the moment as it will help him be 100 percent going forward. Harry has done a tremendous job in rehabilitation over the last year and I'm sure he'll continue to do the same after this procedure."
RELATED: Harry Giles puts Duke over the top in 2016 so far
The 6'11" forward is expected to miss six weeks while players like Jayson Tatum and Marques Bolden will find a spot in the rotation with upperclassmen like Amile Jefferson and Grayson Allen leading the way. Freshmen Javin DeLaurier and Frank Jackson could also break the rotation considering the Blue Devils really only played six guys last season and won't have Marshall Plumlee back.
[h/t SNY.tv]