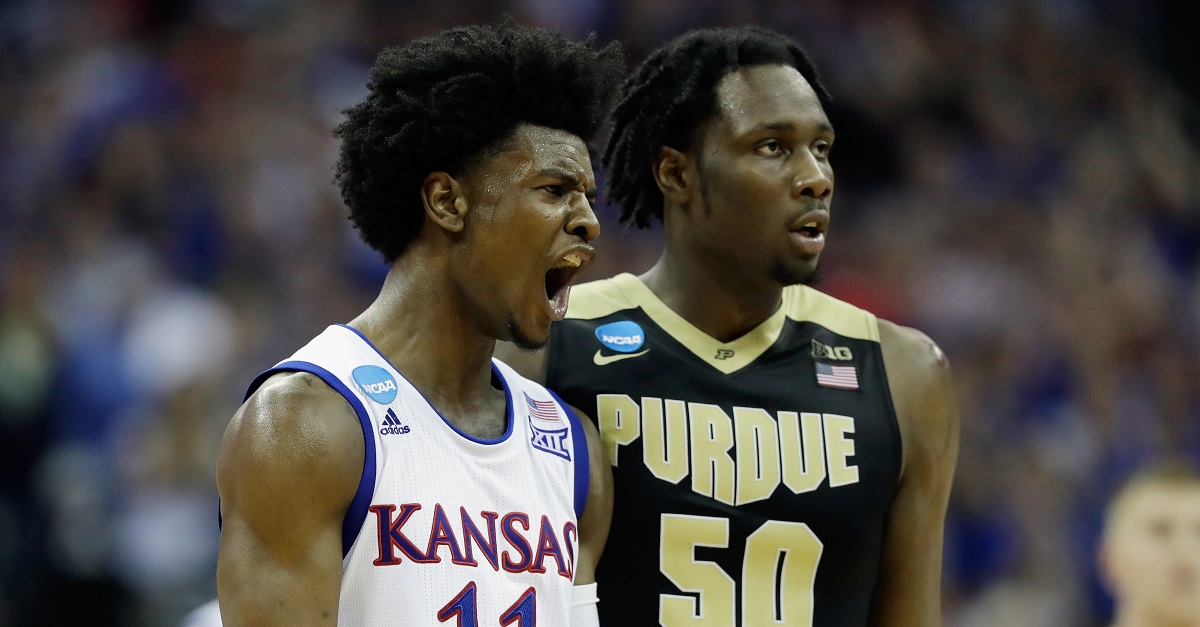 Jamie Squire/Getty Images
KANSAS CITY, MO - MARCH 23: Josh Jackson #11 of the Kansas Jayhawks reacts in the second half as Caleb Swanigan #50 of the Purdue Boilermakers looks on during the 2017 NCAA Men's Basketball Tournament Midwest Regional at Sprint Center on March 23, 2017 in Kansas City, Missouri. (Photo by Jamie Squire/Getty Images)
ESPN's Basketball Power Index works much like its football counterpart in predicting who might win a national title and make it to the Final Four. And just like its football counterpart, the BPI has some ridiculous teams at the top of its rankings:
The BPI is predicting that Kansas, Villanova, Purdue and Wichita State have the best chance to make the Final Four this year. Putting Kansas in there makes sense as they are likely to win the Big 12 yet again and have a high seed, but Purdue is not expected to even come close to winning the Big Ten as everyone has Michigan State doing that and they lost their best player in Caleb Swanigan to the NBA Draft this year.
Wichita State should dominate its new conference in the AAC, but that is still a Group of Five conference and won't be playing the really big teams that Kansas and Purdue play in-conference. Villanova will likely dominate the Big East again, but they also lost some senior leadership in Ryan Arcidiacono and Josh Hart so it remains to be seen just how good they might be.
Duke, Arizona and Kentucky are all also expected to be major players this season with superb recruiting classes coming in. Duke and Kentucky have the top two classes, but Duke also has Grayson Allen returning and Arizona has some upperclassmen to help keep them steady. Kentucky might have the youngest team in the country though so they could see some rough patches throughout the season.