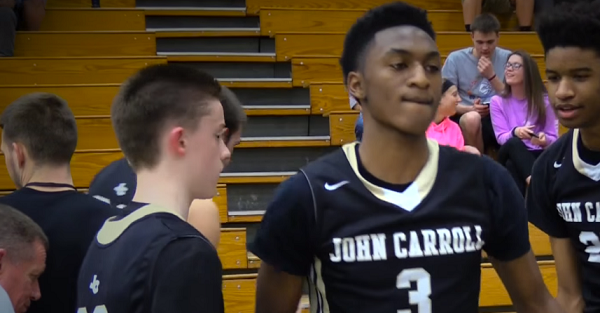 MakePlayz/YouTube
Five-star point guard Immanuel Quickley is just getting going on his recruiting since he's in the class of 2018. That means he's got a whole year to be wooed and amazed by coaches, but for now he's got seven schools recruiting him the hardest. He told Jerry Meyer of 247Sports that his seven top schools are Kentucky, Duke, Kansas, Maryland, Providence, Miami and Virginia.
Quickley is rated as the No. 12 recruit overall in the class according to ESPN and is the top rated point guard as well. The 6'3″, 180-pound guard hails from Bel Air, Maryland and plays for the John Carroll School up there. He also holds offers from UConn, Arizona, Louisville, UCLA and Washington among others.
Quickley maintained that all his suitors are even right now, but Kentucky, Kansas, Maryland and Miami have done in-home visits with the top prospect. As far as his plans for official visits, he is is open to taking all five allowable. However, he has not made any solid plans on which programs he will be visiting.