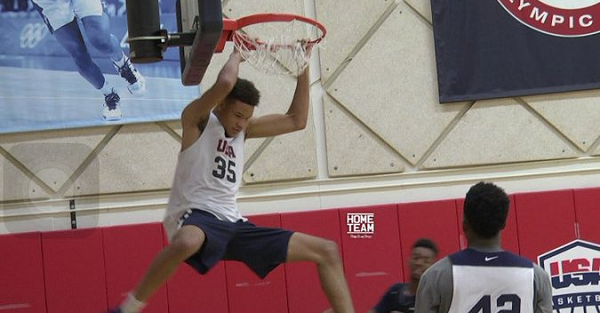 Twitter/@kevin_knox23
Kevin Knox is one of the most coveted recruits in the country for the class of 2017 and has still not signed with a school. That has prompted at least one professional league to try to tempt him to play overseas for a year before he enters the NBA Draft. It's not a terrible option as it's been done by the likes of Brandon Jennings, Emmanuel Mudiay and Terrance Ferguson (a 2017 NBA Draft entry).
RELATED: Kevin Knox moves back decision date
In an interview with the Tampa Bay Times, Knox's father revealed that a Chinese professional team had offered his son $1.4 million to play one year overseas before entering the NBA Draft in 2018. The answer seemed to be a pretty quick one though as Kevin Knox Jr. knows exactly what he wants to do next year. From that interview:
"I didn't put much stock into the offer," said his father, also named Kevin. "We politely said thanks but no thanks. He's going to college."
Knox is the No. 2 small forward in the country behind Michael Porter Jr. and has listed Duke, Kentucky, North Carolina, Florida State and Missouri as his top five schools right now.
[h/t The Spun]