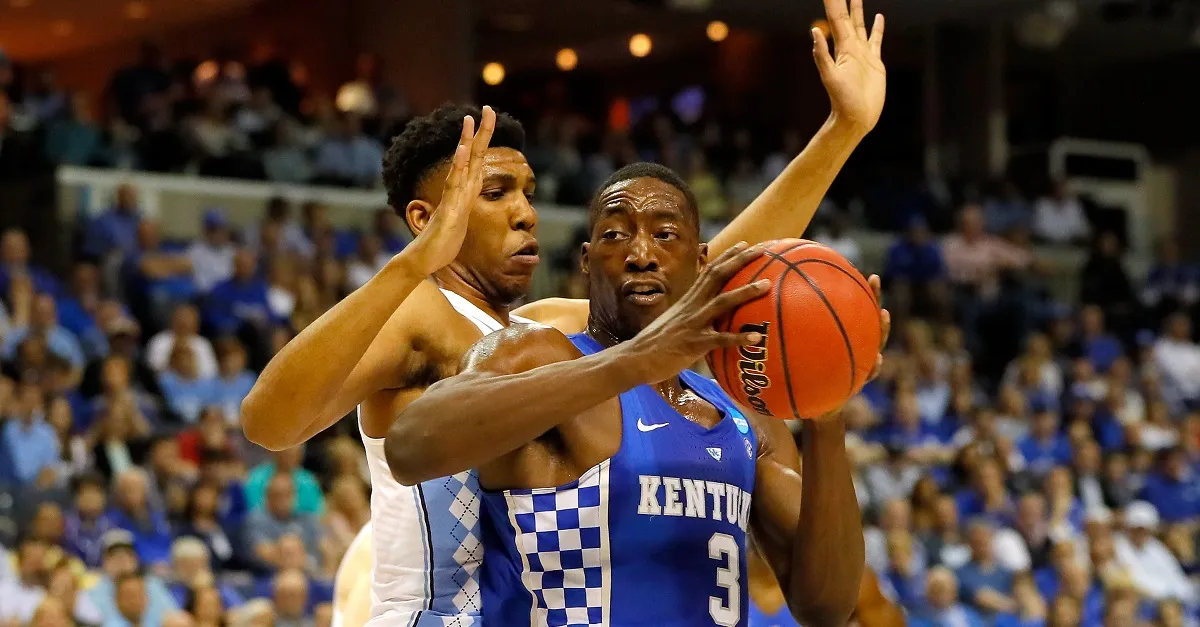 Kevin C. Cox/Getty Images
MEMPHIS, TN - MARCH 26: Edrice Adebayo #3 of the Kentucky Wildcats handles the ball against Tony Bradley #5 of the North Carolina Tar Heels in the first half during the 2017 NCAA Men's Basketball Tournament South Regional at FedExForum on March 26, 2017 in Memphis, Tennessee. (Photo by Kevin C. Cox/Getty Images)
6'11", 240-pound freshman center Tony Bradley out of North Carolina had a pretty big decision to make about his basketball future on Wednesday. He was between staying in the NBA Draft and becoming a fringe first round pick or going back to school to get more playing time and improve his stock. He's decided that he will XXXXX:
RELATED: Two potential Final Four teams sweating out decision on top players
Bradley averaged only 7.1 points, 0.6 blocks and 5.1 rebounds in his 14.6 minutes a game. He was playing behind seniors Kennedy Meeks and Isaiah Hicks who had proven themselves as reliable centers over the years, which is why he didn't see the floor as he much as he would have liked. However, his size and pure potential had some teams interested in him before he even stepped on the floor at the Dean Dome.
With his departure, the Tar Heels can expect to still be a solid team, but perhaps not a team that could repeat for the title. Regardless, UNC would have been a top 25 team in the preseason polls, but this decision will probably influence that a little bit before the season starts.