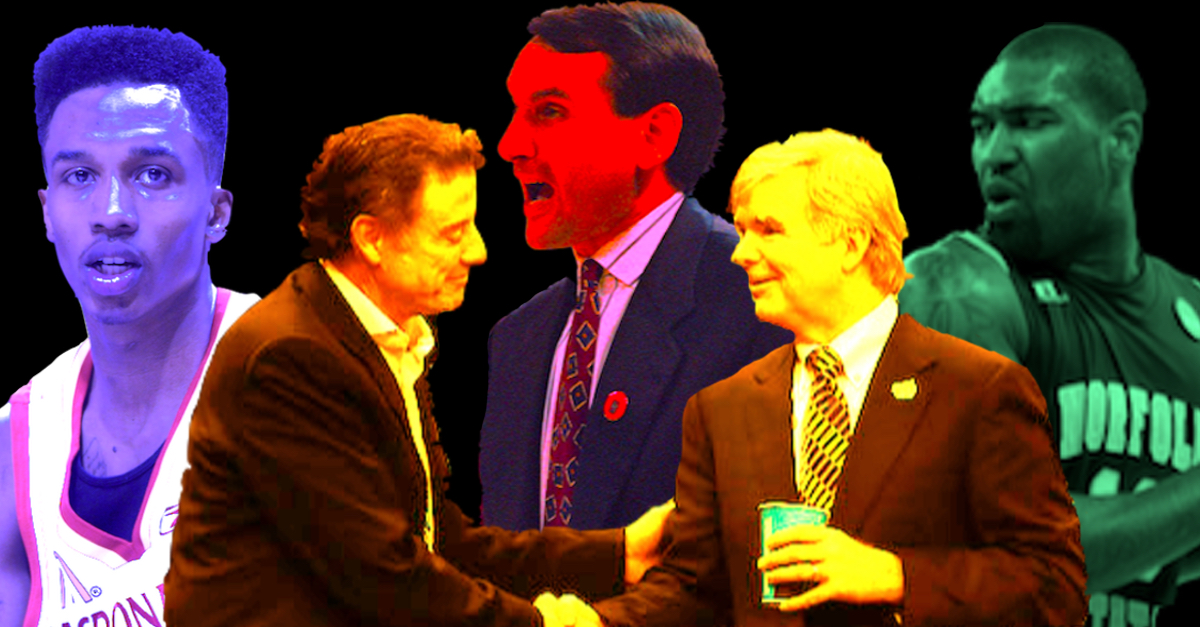 Getty Images multiple
From its inability to govern to refusing to pay players in an effort to protect the sanctity of amateurism, nearly everyone has an opinion on the the National Collegiate Athletic Association.
Far fewer, beyond voicing their frustrations, do anything about it — until now.
"We've identified the problem," Historic Basketball League co-founder Ricky Volante told Fanbuzz. "There will be those who will argue with us about whether or not it really needs fixing. We believe it does. We believe we have a team, that is hitting at this from so many different angles, that we can have long-term success and not be some flash in the pan."
The HBL, in its current form and attempted application, is trying not to circumvent the NCAA's model, but exploit its weaknesses. If the NCAA is about romanticized ideas of amateurism that disregard its own operations as a money-making business, the HBL will embrace the opposite, using that to its benefit.
A group of people from various backgrounds — lawyers, Silicon Valley masterminds, economists, doctors, a former assistant athletic director at a Pac-12 school — believe the time is now for the landscape of college sports to change.
This isn't an overnight movement. Andy Schwarz, who started this venture roughly four years ago, has spent an ungodly amount of time researching, crunching numbers, finding workable pieces, everything to make sure this final push before the HBL launch adds up.
It is a team effort by the HBL group, and hardly a finished process. Two of the co-founders who were being interviewed for this story were literally on their way to meet an unnamed school's leadership group while waxing poetic about their vision and the HBL's place in today's landscape.
A soft launch date has been set for 

June 19, 2019 for the HBL
Both co-founders agreed that, depending on the next six weeks of talking to school presidents, it could be pushed back to 2020.
Planned as a club league which would play in the summer months, hoping to benefit from minimal basketball opposition, the concept of the HBL is simple: to pay players — a minimum salary of $50,000, possibly up to $100,000 — with any individual HBCU's only responsibility being to provide a scholarship for the incoming player. It is an endeavor Schwarz and Volante believe comes with no risk for the universities that join, but has endless potential for the investors and the schools that decide to take the path less traveled.
Money plays a key role in helping any startup business launch. Volante told FanBuzz that the HBL is still in its seeding portion of funding, relying on angel investors, but he added that it should take only one domino to fall for large investors to start finding the league, as opposed to the HBL seeking them out.
The HBL is close, but not yet fully there. Volante and Schwarz joked about not being completely against a Jeff Bezos — or someone of his financial standing — finding out about this venture, then hoping to invest.
This idea of a rogue college basketball league is rife with idealism and could therefore be seen as a naive venture which fails to account for harsh realities, yet the people overseeing it are making no false claims. The HBL is here to be a business, not just a merry prankster stunt meant to shake the NCAA at its core. The league wants to profit over the long haul, although the people involved won't sacrifice their vision for easy money.
"We want people involved who want to make a social impact," Volante said. "It's not about letting every Tom, Dick or Harry contact us. It's about letting the right money come in."
To understand why something such as the HBL is trying to exist is as important as the league succeeding or failing. Noble concept, altruism at its finest, or even just a risky attempt at capitalism, there's a reason the Historic Basketball League is close to being fully operational.
What's the NCAA
The NCAA wasn't around for the dawning of major college sports as the world currently knows it. While intercollegiate competition has been around since 1852 — marquee rowing matches featuring Harvard versus Yale — there wasn't a need for a governing body of college sports. There were barely any college sports to govern.
Rowing, laughable now, was a major sport dating back to the 1800s. Over time, somebody had to make sure all was proper and fair within it.
That's where the Rowing Association of American Colleges and the Intercollegiate Rowing Association came in, the first form of a governing body in — and over — collegiate sports. It served its purpose, overseeing the integrity of rowing, and functioned similarly to how the NCAA is meant to today — maybe more in theory than application.
Then, other sports started to emerge, the kinds that would later be dubbed money sports, the reasons the HBL is running counter to the NCAA's culture.
When football first came to the scene, the rules of the sport were in a constant flux, sometimes being made up or tweaked right before two teams met on the field. This resulted in a lot of injuries and sometimes even deaths — all of which were otherwise preventable had there been a more structured system in place.
Deaths and a rash of injuries would force anyone to take notice. In the early 1900s, spurned by the poorly constructed and overseen college sports model, the federal government wanted change and, indirectly, helped create the NCAA.
The NCAA dates back to a series of conferences headed by United States President Theodore Roosevelt. He wanted reform in the Wild West world of college sports, a landscape that was still more an activity than a competition featuring millions of dollars on the line.
Protection of the participants, at least supposedly, was meant to be the main goal.
Roosevelt wanted football games to no longer be contested. His push for reform convinced many universities to shutter their football programs completely. The most famous example: the University of Chicago. Football icon Amos Alonzo Stagg, one of the formative figures in the history of the sport, coached there. Jay Berwanger won the first Heisman Trophy at the school in 1935. The institution was a founding member of the Big Ten Conference, known at the time as the Midwest Conference.
Yet, Roosevelt's accomplishment can be seen today for what it was: markedly limited, swimming against the advancing tide of the sport's reach and dominance, which remain in 2018. Despite the President's push, as well as notable universities obliging, the movement didn't stop football from growing and continuing. As it often is, the idea of doing what might be logically and/or ethically best caved in after people in power realized there was money to be made.
Money, as it turns out, is a recurring theme within the NCAA's model. It is part of a model founded off a word a specific university co-opted years ago to avoid paying one of its non-laborers.
The use of the word amateurism notably came into play in the 1950s. It happened after a young man died playing football. His widow filed for workman's compensation death benefits. As a result, amateurism was created — arguably, to be ambiguous in order to avoid easy definition — to ultimately allow the NCAA and its members to protect their own interests. It worked at the time: The Colorado Supreme Court ruled "football is not a business" and prevented the widow from receiving the benefits.
A historic legal precedent was set almost 70 years ago.
Following Roosevelt's message to the academic world concerning a lack of institutional control over sports, Henry MacCracken (then vice chancellor of New York University) decided it was time to act. MacCracken organized a meeting with 13 other universities to fix what was wrong with college sports in 1906.
One meeting later, 62 institutions of higher learning became charter members of the Intercollegiate Athletic Association of the United States, which would eventually become the NCAA in 1910.
Form did not meet function. More than a century after its founding, the NCAA has done little to evolve or adapt to the times. It remains married to a legal ruling from a time before the Voting Rights Act of 1965, a time in America's history not necessarily overflowing with humanity or proper human rights laws.
Incapable of overseeing anything other than clerical errors and student-athletes going a few miles over the speed limit, some would argue the NCAA's model is not only archaic, but overdue for a major overhaul to the point that it might not be capable of saving.
NCAA killing the HBCU
There's a specific kind of school hurt most by the NCAA's oligarchy — HBCUs.
The Historic Basketball League is attempting to right that wrong and address that deficit, rooted in decades of history. The HBL is building its modern approach to paying labor within a more socialistic system, at least in its founding stages, by starting with the NCAA's forgotten universities.
"We're targeting HBCUs because — and this is where it becomes less about sports — this is more about culture and society," said Volante. "We're not using our athletes. This is about African-American athletes being able to rewrite how society views them. Not just as the seven-foot guy on campus, but as someone who is put in the best place to succeed after college, even if it is not as a professional basketball player."
The theory here is incredibly simple. The HBL and its member universities will provide scholarships and pay for a player's services. All of this will happen during the summer, providing that student-athlete no true obstacles to face during a regular semester on campus. There will be no games played on Friday afternoons in November or extended travel that prevents the student from maximizing his potential.
Furthermore, the money the HBL will give to the HBCUs — directly and through future sponsorships — should improve funding for the schools in terms of providing academic support, not just direct compensation to athletes. This is an especially important aspect of the HBL blueprint, since the NCAA's structure puts those same schools at a disadvantage.
If the NCAA is about the blue-blood college basketball programs, the HBL is going the complete opposite direction, pouring its resources into schools not nearly enough people think about whenever Mark Emmert claims the organization he oversees is about every school in the land.
It wasn't always this way.
In 1984 another important legal milestone arrived when the Supreme Court — in NCAA v. Board of Regents of the University of Oklahoma — ruled that universities should be free to pursue their own TV deals. The days of Grambling University (located in small-town Louisiana) being coined the "black Notre Dame" were over. With schools realizing there were massive amounts of money to be made off the back of labor sources which were talented in sports — the sports people were interested to see — historically less diverse universities began to fly over traditional HBCU recruiting grounds to snag players.
This was a form of capitalism, one might argue, but it operated in the fictitious world and hollow constructs of amateurism.
Despite the NCAA's constant touting of a supposedly fair and competitive landscape, money changed everything, especially for the HBCUs.
The change didn't happen overnight, but it didn't take all that long, either. Only a few decades removed from featuring nationally relevant programs and players, the sports landscape began to carve out a niche for universities whether they liked it or not.
It was the haves and the have-nots. Given the capitalistic nature of the NCAA, where the rich tend to get richer, HBCUs were on the outside looking in.
HBCUs are on the wrong side of Karl Marx's theoretical Law of Increasing Poverty.
College money sports are said to comprise a $10 billion-a-year business. That money, however, is not shared evenly. The NCAA and its university members, while claiming to be about mostly everything other than a business, has a great model of capitalism — that only benefits those who already have the money and power.
An ESPN analysis in 2016 found that Power 5 schools made $6 billion in 2014-15, while the Group of 5 conferences accounted for another $2 billion. That $4 billion dip seems extreme until you compare it to the next line in the sand.
The total combined revenues for the Mid-Eastern and Southwestern Athletic Conferences over that same period of time, according to a USA Today database, were roughly $289 million.
Power 5 and Group of 5 schools are operating in the literal billions. HBCUs are in the millions. This has had a huge impact on the state of HBCU sports and academia.
In 2013, Grambling State's football team went on strike to protest dangerous, dilapidated athletic facilities. It made national headlines — though the anger many felt, especially outside the HBCU bubble, was short lived.
In 2010, without a massive TV deal at its back or the ability to profit off the money sports as major conference programs do, Mississippi Valley State's football stadium was deemed so unsafe it was temporarily closed.
These things were happening often, and long before national outlets covered the downfall of Historically Black Colleges and Universities. To make up for this, in a system that always felt like the NCAA's lesser-than university members chasing a carrot for the sake of staying alive, guarantee games became prevalent. HBCU teams played road games against major programs in exchange for money — money the HBCUs needed to not only fund their sports programs, but stave off lowering enrollment rates and being able to invest back into the educational system.
Examples: In 2013 Florida A&M lost at Ohio State by 76 points. In return, the university collected $900,000. Worth noting: It was more than half of the school's $1.6 million football budget that season. Football's counterpart in the land of money sports, basketball, isn't different. Mississippi Valley State went on a 14-game, 13-state road trip to start its 2015-16 season, losing all 14 games while earning $600,000.
National observers praised Mississippi Valley State's "tough road slate" as if it were some noble deed done by the basketball program, and not what it actually was; an attempt to get much-needed money back into the school.
Those universities were not chasing the almighty dollar to upgrade facilities or fund a campaign to lure the next hot mid-major coach. They were forced to do what they did — by the NCAA's purposed design to have a hierarchy that isn't the HBCU's friend — to merely stay afloat.
This poisoned relationship between the NCAA and HBCUs only gets worse, even if some of the result was unintentional. The NCAA has claimed in court that it is not responsible for governing the quality of education that athletes receive. Yet, everyone has read stories of the governing body poring over high school transcripts, resulting in a rash of one-sided, seemingly "regionally" provoked punishments.
The NCAA relies on the flawed APR as its educational umbrella system. If a program doesn't meet a weird set of guidelines, it gets hurt. Clearly, that's a weird thing for the NCAA to oversee since it claims it isn't responsible for the quality of education student-athletes receive.
In 2016, all 23 teams hit with postseason bans for low APR scores belonged to an HBCU. Eight schools were affected in total, two of which are among the 10 poorest schools in Division I. Going slightly deeper in the wormhole, not one of the schools earned more than $14.5 million in revenue in 2015.
For the sake of clarity, no power conference school brought in less than $50 million, and at least 24 others brought in more than $100 million.
This is a model of business that isn't what the NCAA claims it to be. Had the NCAA ever acknowledged itself to be just that, a business, and/or paid its student-athletes in the sports bringing in huge sums of money, the story could end here. Every business — in this case, universities — has a right to open. Not all are entitled to stay open. Such is life in a cold world.
However, the NCAA — and, it must be noted harshly, its university members — declare it to be about everything but a business. It leaves the door open for a plethora of concerns, ranging from labor abuse and unfair practices to creating an atmosphere in which it is directly altering the structure of the entire educational system.
Bluntly put: If power conference programs are earning in the billions, with the HBCUs forced to chase on the outside, this is what will come next: Over a short period of time there's going to be a difference in the educational value both have to offer. Not only is the NCAA's model hurting HBCUs on the field, it is quietly killing the educational stronghold that is vital for many who have long relied upon it.
The APR, which favors wealthy programs that can fund special programs and tutoring for both athletes and regular students, hurts those schools that can't afford such things. In turn, the latter universities are then punished by the NCAA for not living up to an academic standard it set, which is largely built off semantics and a school's ability to get better in the academic world through money… which the HBCUs lack.
It is a vicious cycle of money begetting money begetting better sports programs begetting better education.
As part of the HBL's missions statement, the league intends to change that.
"We think having this happening in college is important," Volante replied when asked why people should separate the HBL from other attempted professional leagues. "We're trying to empower institutions and the people who come to them."
In theory, the HBL will help offset the HBCUs' chase of money — through a business-based basketball league which does away with the NCAA's false pretenses and allows the universities to more directly flourish.
HBL and HBCUs
"If you listen to a (Mike) Krzyzewski, they talk about AAU as if it is a problem," Schwarz said. "The AAU coach, the guys that run the teams, they are community leaders. It is only because of the cult of amateurism that people are taking a person helping kids get to college and turning him into the bad guy."
Part of the Historic Basketball League's plan is to embrace areas of basketball the NCAA and its entire being resent or shun.
By acknowledging itself as a business, there will be no need for the HBL to hide its monetary offers to players, or the players themselves from finding endorsement deals. Nor will anyone have to do behind-closed-door meetings in which shoe companies and coaches meet to decide how Player X can land at Shoe Company Program Y.
The cards will be out on the table.
"We have safeguards in place," Volante said. "We have people in place to recruit these kids. As long as we don't offer them anything before landing them, they won't be committing NCAA infractions. We can tell them whatever, and we're using that."
The argument against a not-already-established NBA- or NCAA-structured league is generally the same. The NBA has the best product, since it is comprised only of professionals. As for the NCAA's, it is about team ownership and the brand that is each basketball program.
So, why the HBL?
"First and foremost, you're going to tune in to the HBL for the quality of the product," said Volante. "There's times it's Duke facing Chattanooga. We're not going to have that. We're going to have future NBA and professional players playing each other only."
"People will keep coming back to see these great players play, then people will develop an emotional connection as people naturally do."
It isn't a guarantee that an emotional connection will be forged, which is a core part of making the league work. The G-League, largely functioning as the NBA's official feeder system to the NCAA's unofficial one, isn't nearly as popular as college basketball even while having more quality players in it. There is something to be said about fan ownership in college.
Fans were willing to root for their favorite teams in the prep-to-pros era, as well as some awful versions of the product, so it doesn't inherently mean the HBL's presumed superior talent will reach the masses as intended. There will need to be a curve added for the appeal to spread, but that's why the organization has a strategy in place.
Admitting it would listen to "the right offers from the right people," the HBL is bypassing traditional television networks and instead focusing on an entry point at the ground floor of live-sports streaming. Nothing official has happened yet, but the HBL believes it can do well in the realm of streaming, especially if it starts while streaming service outlets are craving live broadcasting.
"We're not going to be thinking about UNC or Duke when we talk about college basketball," Volante explained. "We're going to be talking about Howard. Hampton, Grambling, and Florida A&M."
If the Historic Basketball League makes history, fans will be talking about those schools as well — for the right reasons, and sooner than you think.