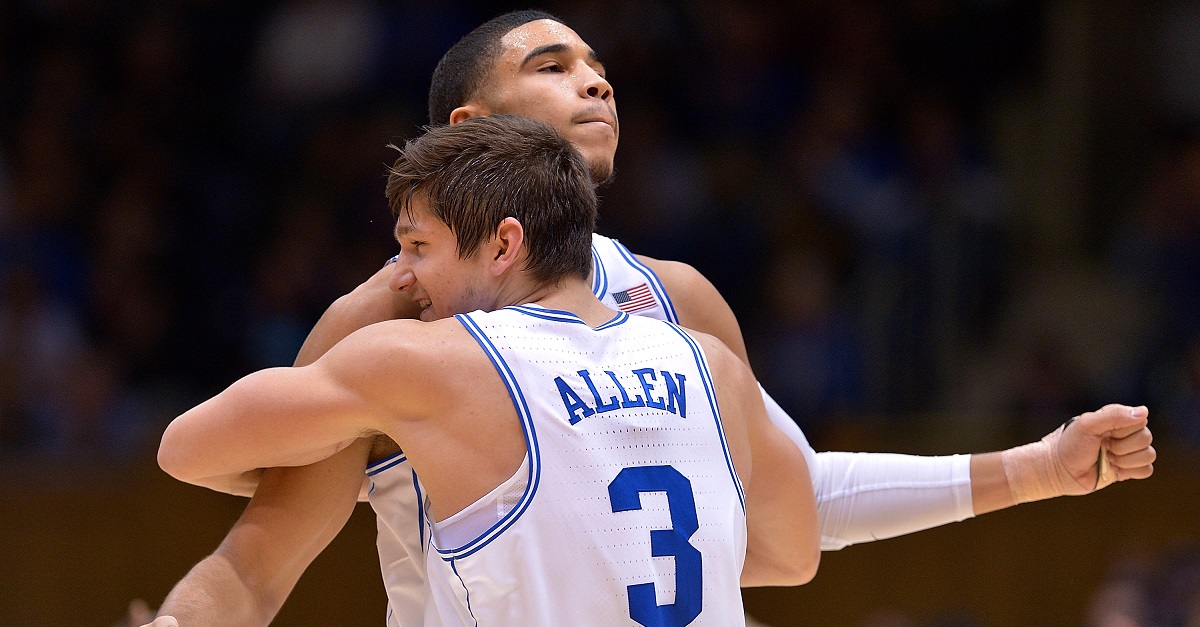 Grant Halverson/Getty Images
DURHAM, NC - JANUARY 04: Grayson Allen #3 embraces teammate Jayson Tatum #0 of the Duke Blue Devilsduring the game against the Georgia Tech Yellow Jackets at Cameron Indoor Stadium on January 4, 2017 in Durham, North Carolina. Duke won 110-57. (Photo by Grant Halverson/Getty Images)
Former Duke great Jay Williams is a blatant supporter of the hoops program and makes no bones about it on television when he covers games. However, he does hand out criticism when it's appropriate and the incidents with Grayson Allen tripping players would certainly qualify.
RELATED: Coach K makes ludicrous decision on Grayson Allen just one game into "indefinite suspension"
And Williams was particularly upset with Coach K and the school when they said that Allen would come back after only missing one game in which Duke lost. He took to Twitter to vent his frustration and blame the conference for not stepping in.
RELATED: Grayson Allen lost more than playing time during his suspension
Allen came back after a one-game suspension and scored 15 points and dished out seven assists to lead Duke to its biggest ACC win ever with a 110-57 victory over Georgia Tech. Williams makes a good point that the ACC should have at least considered stepping in on such a weak suspension, but it's also the coach's right to discipline his players how he sees fit.
Is Jay Williams right on this one? Vote in the poll below: