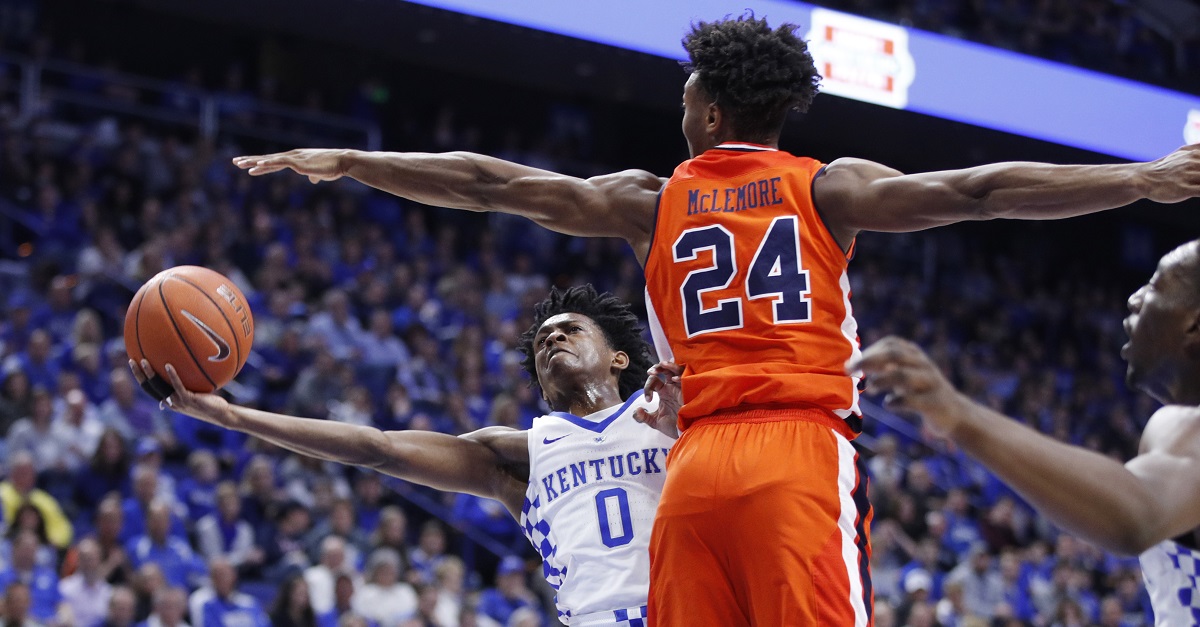 Joe Robbins/Getty Images
LEXINGTON, KY - JANUARY 14: De'Aaron Fox #0 of the Kentucky Wildcats drives to the basket against Anfernee McLemore #24 of the Auburn Tigers in the first half of the game at Rupp Arena on January 14, 2017 in Lexington, Kentucky. (Photo by Joe Robbins/Getty Images)
Kentucky might have steamrolled South Carolina 85-69 on Saturday, but it came at a cost as point guard De'Aaron Fox was injured in the first half. He seemed to roll his ankle driving to the hoop in the first half and was fouled, but finished the shot and then went back to the locker room to get looked at.
RELATED: UK loses most important player to injury against South Carolina
He came out with a boot on, which definitely scared some people:
RELATED: Top shooting guard Hamidou Diallo finally commits to a powerhouse
However, coach Calipari wasn't too concerned with the injury and thinks it's just a stinger.
?It?s not swelled,? coach John Calipari said about Fox?s injury after the game. ?I think it might?ve been a stinger. I don?t know. But something hit his ankle.?
He was asked about potentially throwing his newest five-star guard into the mix in Hamidou Diallo and he was not going to let that happen. Diallo just arrived on campus for the spring semester and is likely to take a redshirt before the 2017-18 season. In fact, Calipari said he would rather use someone that no one else would.
?Because I would want to play Brad [Calipari], mainly. And I would tell you that, if I have to play Brad, we?re going to play some more zone. All you guys out there, you basketball bennies, saying, he never plays zone. I played some zone today, how did it look? Three, three, basket. Okay. Now you know why I don?t play zone. No, we?re not, that?s not even in the cards [playing Diallo].
That will certainly make some Kentucky fans uncomfortable as Brad is on the team only because his dad is coach and he only gets in during scrub time. If Fox should miss Tuesday's game at Tennessee then Big Blue Nation should expect to see Isaiah Briscoe and Dominique Hawkins get a lot more minutes than usual.
[h/t Zag's Blog]