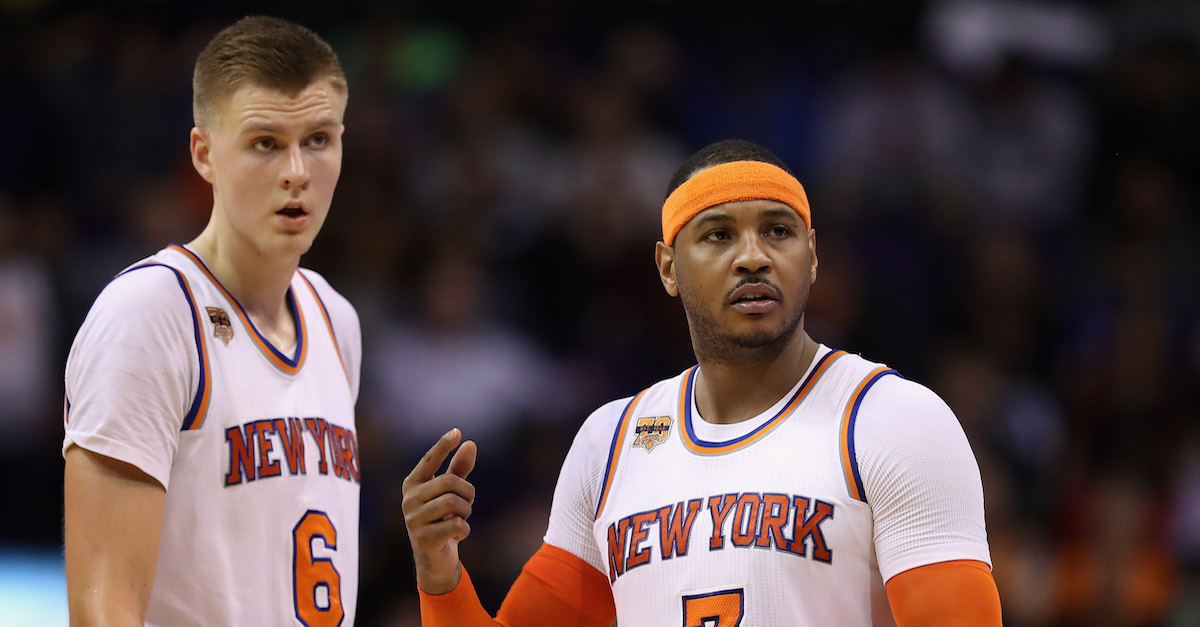 Christian Petersen/Getty Images)
PHOENIX, AZ - DECEMBER 13: Kristaps Porzingis #6 and Carmelo Anthony #7 of the New York Knicks reacts during the second half of the NBA game against the Phoenix Suns at Talking Stick Resort Arena on December 13, 2016 in Phoenix, Arizona. The Suns defeated the Knicks 113-111 in overtime. NOTE TO USER: User expressly acknowledges and agrees that, by downloading and or using this photograph, User is consenting to the terms and conditions of the Getty Images License Agreement. (Photo by Christian Petersen/Getty Images)
One word — WHOA!
Yes, the New York Daily News is reporting that John Calipari, the long-time college coach who now heads one of the best programs in the country in Kentucky, has interest in becoming president of the New York Knicks. The Knicks are looking because they dumped Phil Jackson (the releases said it was a "mutual parting of the ways") because he alienated the teams's star (Carmelo Anthony), said he was interested in listening to offers one on of the best young players in the league (Kristaps Porzingis) and  insisted his poor coaching staff run a triangle offense that the players just didn't buy in to.
ESPN, which broke the news,  reported, however, the Knicks don't appear to be interested in the 58-year-old Calapari, at least not now. "Presumably," ESPN reported, Calapari would also want to coach, and his coaching stint in the NBA was, well, awful.  He coached the Nets from 1996 to 1998 and was fired after he started the 1998 season 3-17. His overall record with the Nets was 72-112, for a .391 winning percentage.
Calipari's contract with  Kentucky runs through  2024 and pays about $8 million a year.
The Knicks, according to reports, are enamored with Toronto Raptors general manager and president of basketball operations Masai Ujiri, ans they should be since he's — good at what he does.