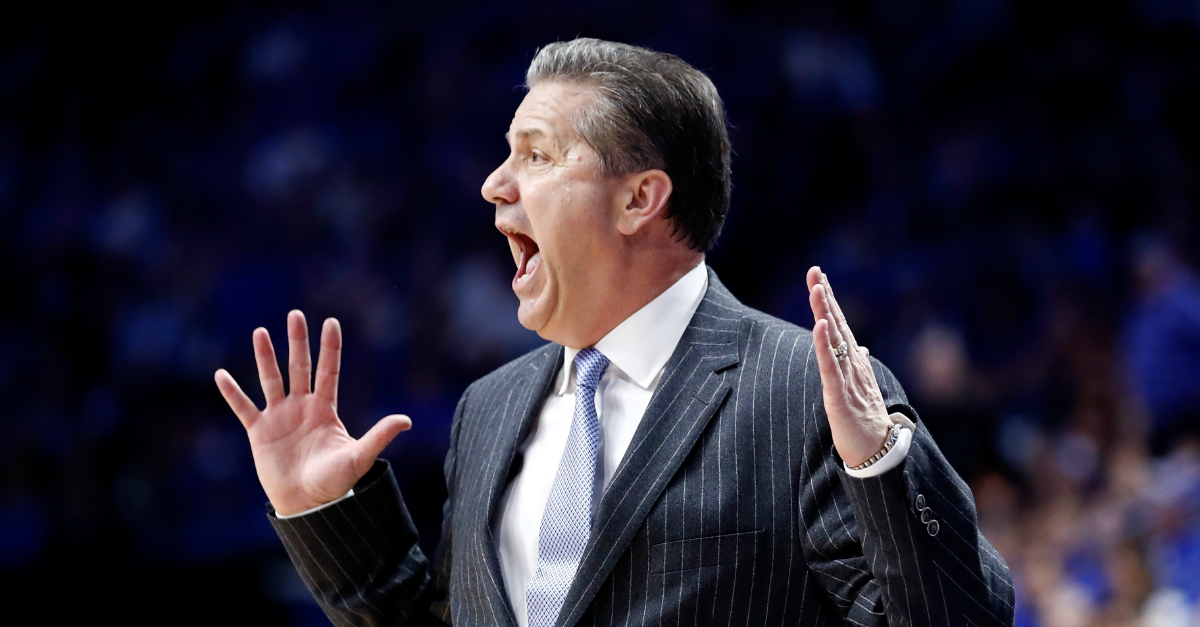 Andy Lyons/Getty Images
LEXINGTON, KY - JANUARY 09: John Calipari the head coach of the Kentucky Wildcats gives instructions to his team against the Texas A&M Aggies during the game at Rupp Arena on January 9, 2018 in Lexington, Kentucky. (Photo by Andy Lyons/Getty Images)
John Calipari believes, as do most members of Big Blue Nation, the Kentucky Wildcats are a good team. He also believes he is a good coach. However, despite both of those things being true, he's unhappy with how his team is mentally trotting about life at the moment.
Following his team's 76-68 loss to the South Carolina Gamecocks on Tuesday night, Calipari didn't mince words.
"There's an unwarranted arrogance that we get up, we're really good or I'm really good and I'm going to do what I'm choosing to do and I'm not going to listen what you're saying," Calipari said after his team blew a 14-point second-half lead on the Gamecocks' home floor. "And that's what happened and it started rolling and then all of a sudden we couldn't stop the onslaught."
That reads like a man on fire. When you watch him speak those words in human form, it is nearly as blunt.
Oddly enough, following the clips running on ESPN, former Virginia Tech coach and current basketball guru Seth Greenberg went after youngsters and the media for the freshmen hype.
"This is part of the process if you're going to recruit these one-and-done guys," Greenberg said. "These guys have been recruited since they're 13 years old. They've been enabled since they're 13 years old. They all think, 'It's not about Kentucky, it's about how quick can I get to the league?' It's all about me, me, me. They don't know how to play hard. They can't maintain an intensity. John Calipari coaches his team really hard, but they're more concerned about themselves than the good of the group."
There you have it. Our annual combination of stories. The "Calipari says Kentucky is actually bad" diatribe, and the "freshmen are evil and entitled" narrative.