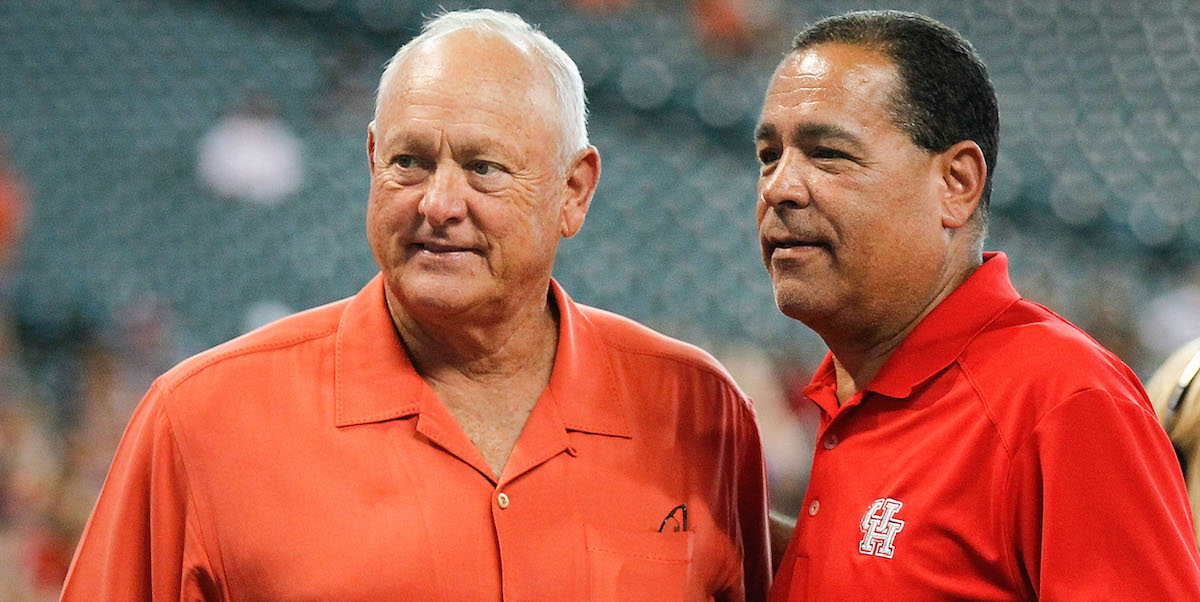 Bob Levey/Getty Images
HOUSTON, TX - SEPTEMBER 02: Nolan Ryan, left, and University of Houston head basketball coach Kelvin Sampson at Minute Maid Park during the game between the Los Angeles Angels of Anaheim and Houston Astros on September 2, 2014 in Houston, Texas. (Photo by Bob Levey/Getty Images)
Houston basketball coach Kelvin Sampson donated to relief efforts after Hurricane Harvey's destruction of the local area and asked other coaches to donate t-shirts and shoes to victims.
Sampson intended on gathering all donations and personally delivering them to victims of the storm, but NCAA regulations will prevent him from doing so.
"They don't want us sending all this nice gear to the top recruit in Houston," Lauren Dubois, senior associate athletics director for UH, told KHOU. "But, obviously that is not our intention at all."
Dubois told KHOU that the university could be punished if found to have delivered the supplies to recruits, their families or youth leagues in the area. Houston has determined that it isn't worth the risk, so the program has reached out to accredited charities in order to facilitate the donations.
"When you do something out of the goodness of your heart, when you have so many people around you helping, it's not hard," Sampson told KHOU.
Houston has applied for a legislative relief waiver, which would relax the guidelines preventing the program's potential donations. According to KHOU, the NCAA has not yet decided on a rule regarding the application.