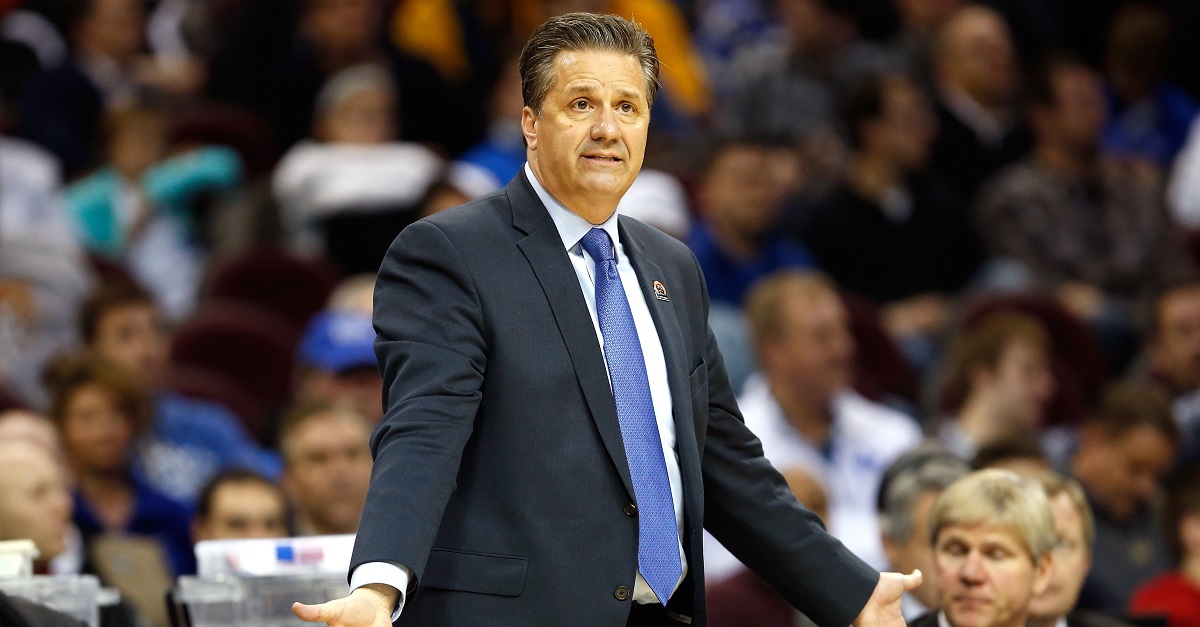 Gregory Shamus/Getty Images
CLEVELAND, OH - MARCH 26: Head coach John Calipari of the Kentucky Wildcats reacts on the sideline in the second half against the West Virginia Mountaineers during the Midwest Regional semifinal of the 2015 NCAA Men's Basketball Tournament at Quicken Loans Arena on March 26, 2015 in Cleveland, Ohio. (Photo by Gregory Shamus/Getty Images)
Kentucky had a strong team last year finishing 27-9 and first in the SEC. That was good enough to get a four-seed in the NCAA Tournament, but the Wildcats didn't get past the round of 32 this year. It was the first time that's happened since 2007 so John Calipari and his coaching staff will be looking to avoid making it a regular habit.
RELATED: UK assistant coach says newest freshmen are 'really talented'
Most people might point to the inconsistent defense as the team's downfall or the fact that big man Skal Labissiere wasn't the polished product everyone thought he would be. However, coach Cal did admit to using Labissiere incorrectly most of the year and that was certainly one factor. The biggest one was definitely the lack of defensive efficiency from the team though despite only allowing 68 points per game.
RELATED: Wenyen Gabriel jabs Duke with single tweet
The team was horrible when it came to defensive efficiency though as it allowed 98 points when adjusted for the opponent's offense, which was 53rd in the country. While Calipari recruited a bunch of five-stars for their offense, there is one in the group who's going to be known for his defense in Wenyen Gabriel.
In an interview with CoachCal.com, Gabriel said that the defensive end of the court is his best end and how he's going to end up on the floor.
?I definitely take pride in it.That?s how I earn my way onto the court. I kind of feel like that?s part of my identity when I?m on the court, when I play.?
The 6'9″, 210-pound forward out of New Hampshire should have the wingspan and athleticism to be a good defender from the start of the season. It will only be a matter of making sure his motor stays rumbling during his time in the game and that he stays menacing in the pain defensively.
[h/t Kentucky Sports Radio]