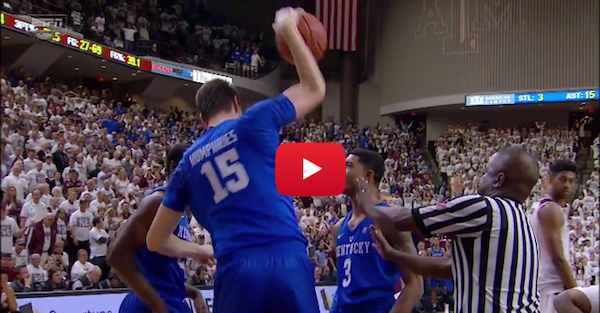 No. 14 Kentucky (20-7, 10-4) traveled to College Station to play Texas A&M (20-7, 9-5) for ESPN's College GameDay and the game did not disappoint. It was ultimately an Aggies 79-77 win in overtime. Wildcat freshman Isaac Humphries was the man who cost his team the game in the end as he made a great play by blocking a TAMU player's shot and got fouled so he would head to the free throw line. However, in his unbridled excitement he spiked the ball on the floor and that will always be an automatic technical foul.
So Humphries actually received his fifth foul because of that and had to leave the floor before his free throws. Skal Labissiere was brought in to shoot the free throws and he made one of them. Texas A&M's Danuel House then shot his two free throws from the technical and made them to tie the game at 77-77.
The Aggies got the ball back and had a chance to win the game and they called House's number again with about four seconds left on the clock. He missed the initial shot, big man Tyler Davis was there for clean up duty and got the putback to go for the win.
What an odd and incredible way to win and lose a game!