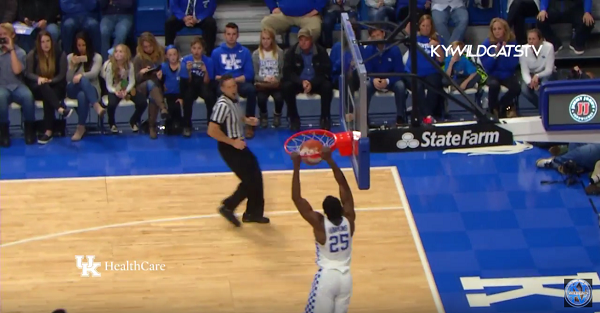 Kentucky Wildcats TV/YouTube
Kentucky only made four of its 16 three-point attempts against Canisius and was only up 11 at halftime, but clearly made some adjustments to end up winning the game 93-69. The Wildcats had four of their starters in double figure scoring led by De'Aaron Fox's and Isaiah Briscoe's 21 points apiece.
RELATED: Kentucky freshman sets new school record in season-opening win
Malik Monk chipped in 16 points, two assists and four rebounds. Bam Adebayo had 14 points and 11 rebounds to go with his three blocks while a bunch of the bench squad got in the game and contributed a little bit here and there.
However, the team as a whole struggled shooting from beyond arc shooting only 25 percent from the area. They made up for it though shooting at a 50.8 percent clip from the floor as a whole and kept the Golden Griffins shooting to only 19 percent from beyond the arc.