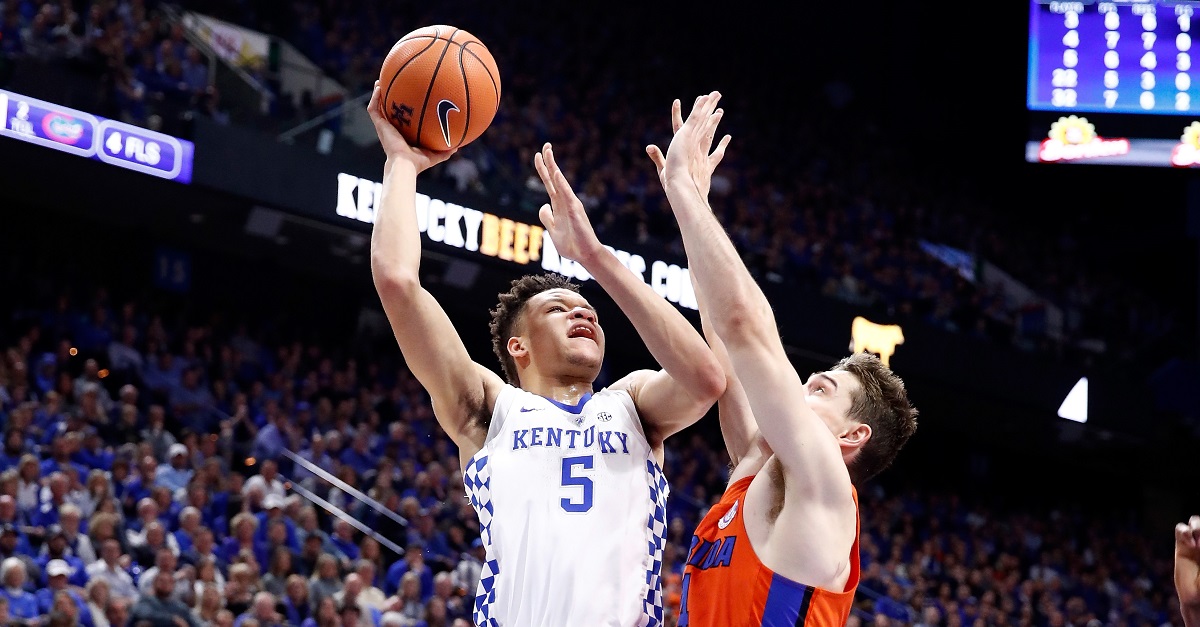 Andy Lyons/Getty Images
LEXINGTON, KY - JANUARY 20: Kevin Knox #5 of the Kentucky Wildcats shoots the ball against the Florida Gators during the game at Rupp Arena on January 20, 2018 in Lexington, Kentucky. (Photo by Andy Lyons/Getty Images)
No. 18 Kentucky suffered a gut-wrenching loss to unranked Florida on Saturday night and that broke a long-running streak that dates back to 2014.
The Wildcats also took their first conference loss at home dating back to February of 2014.
Arkansas was the team that beat Kentucky that February and coincidentally, they were the last team to beat Kentucky in Rupp Arena while being unranked as well. The only other teams to beat Kentucky at home were ranked Kansas and UCLA teams.
Florida got the win despite making only a third of their shots, shooting less than 70 percent at the free throw line and making one-fifth of their three-point shots. However, they only had seven turnovers for the game and forced Kentucky into 16. The Gators were also outrebounded 49-38, but got just enough out of Jalen Hudson, Chris Chiozza, KeVaughn Allen and Keith Stone to win.
Chiozza in particular had a nice game with 13 points, eights assists, one turnover and six rebounds. Hudson led all scorers with 17 points off the bench while Allen had 11 and Stone had 14. Wenyen Gabriel and Shai Gilgeous-Alexander were the only Wildcats to score in double figures with 10 apiece.