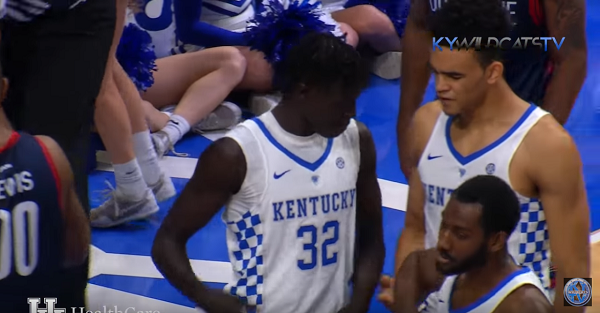 Kentucky Wildcats TV/YouTube
No. 2 Kentucky rolled over Duquesne at home 93-59 thanks to some stifling defense and decent enough shooting. When you hold a team to 30 percent shooting from the floor you don't have to make too many more shots than them to win the game, but Kentucky had more than twice as many made shots as the Dukes.
RELATED: Kentucky downs Michigan State behind Malik Monk's hot hand
Kentucky forced Duquesne into 18 turnovers while only committing 11 of their own and had 10 blocks as a team. De'Aaron Fox led all scorers with 16 points while also notching 7 rebounds and six assists. Four other Wildcats scored in double figures including little-used guard Mychal Mulder who had 13 points off the bench.
Malik Monk had 14 points, Bam Adebayo and Isaiah Briscoe had 13 points in the rout. Everyone on the bench made it into the game including walk-ons including Dillon Pulliam and Jonny David.