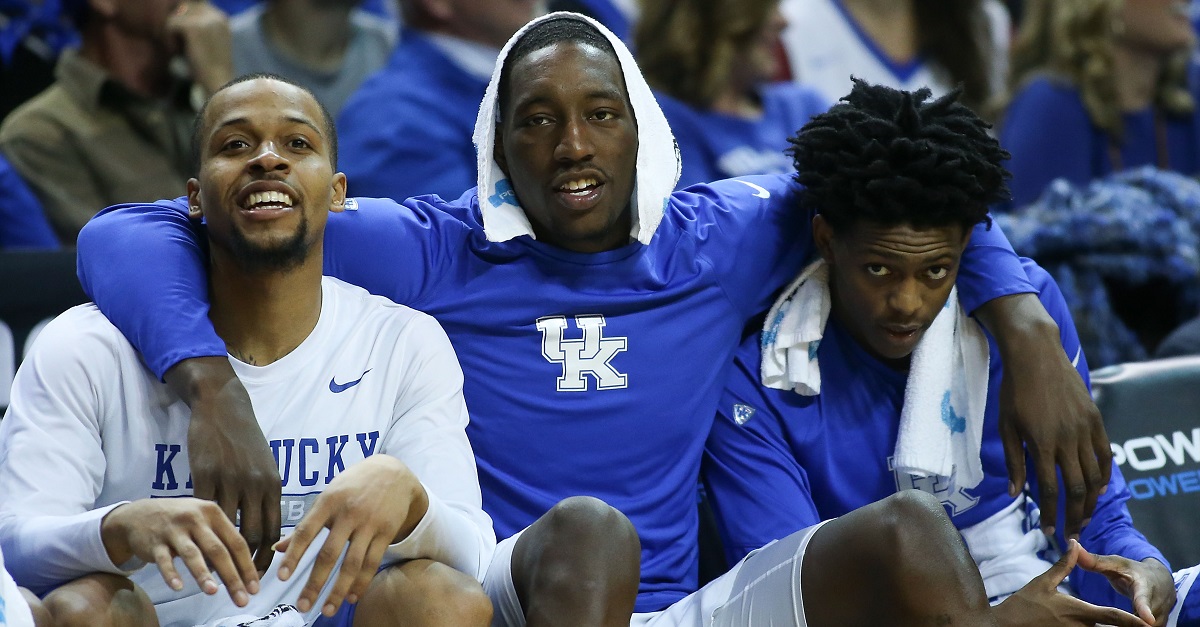 Michael Reaves/Getty Images
NEW YORK, NY - DECEMBER 11: (L-R) Isaiah Briscoe #13, Edrice Adebayo #3 and De'Aaron Fox #0 of the Kentucky Wildcats celebrate on the bench against the Hofstra Pride in the second half of the Brooklyn Hoops Winter Festival at Barclays Center on December 11, 2016 in the Brooklyn borough of New York City. (Photo by Michael Reaves/Getty Images)
Kentucky doesn't need many more advantages over teams in order to win games, but it looks like the team has got another one to brag about this year. The Wildcats already boast the most five-star recruits for this cycle, but with the guys they are bringing in and the few they kept from last season's squad, they are now also the tallest and longest team in the country, including the NBA.
RELATED: Kentucky reportedly has its first opponent of the season scheduled
According to FiveThirtyEight.com, Kentucky's average height of 6-feet 7 and 1/3-inches would be taller than the Milwaukee Bucks who are the NBA's tallest team at 6-feet and 7 and 1/4-inches. Kentucky has nine players taller than 6'5″ and six players taller than 6'9″ with an average wingspan of 6'11".
Those measurements also make the Wildcats the longest team in the country so you can expect some good defense to be played by this year's team. Nothing should get by them or over them considering how many elastic-looking players they have on the roster.
[h/t 247Sports]