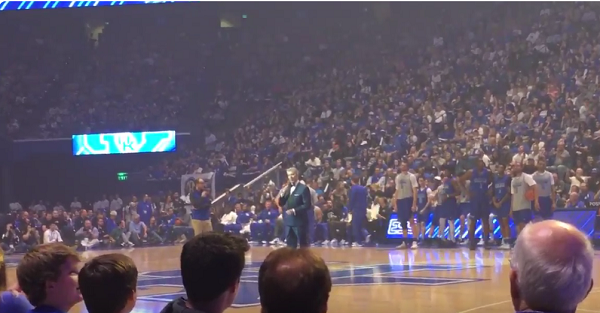 Twitter/@JenNimePalumbo
There's nothing quite like Kentucky's Big Blue Madness that kicks off its basketball season each year. Coach John Calipari has had some incredible guests like Drake, former and current All-Stars, actors and one Michael Buffer.
RELATED: Things got weirdly seductive with Drake at Big Blue Madness
For those who somehow don't know who Buffer is, he is a Hall of Fame announcer for boxing who is most known for his opening match catchphrase of "Let's Get Ready to Rumble!" He broke out his own version for the special event and it was glorious.
Kentucky also had 11 other special guests in attendance and those were potential recruits for this recruiting cycle and next. Such names like Kevin Knox, P.J. Washington, Nick Richards, Quade Green, Trae Young were on the guest list and certainly the Wildcats are hoping some of them come back next year in uniform.
[h/t The Spun]