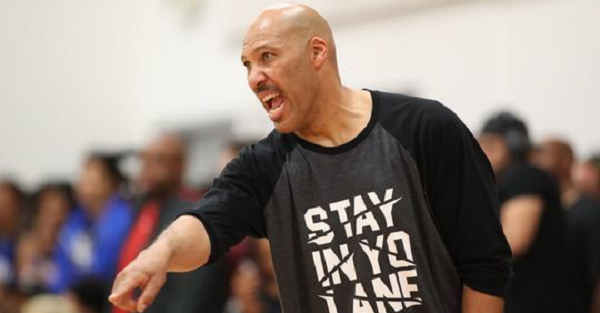 @SportRapid_/Twitter
@SportRapid_/Twitter
LaVar Ball is definitely known for his unorthodox parenting methods and certainly for being outspoken when given a platform to talk. After a 10-point loss for his Big Ballers on the AAU circuit, LaVar absolutely ripped his youngest son LaMelo for "selfish" play and an unwillingness to play any defense. WARNING: The video does contain profane language:
Ball absolutely ripped his son when he called him "selfish" and threw the ball at him and told him to hold because he's clearly not used to it. LaMelo might have put up 50 points in the loss, but he needed 56 shots to do it. That's only been done by two NBA players in Wilt Chamberlain — and that particular stat was not kept until the 1983-84 season — and Kobe Bryant in his last game against the Utah Jazz where he scored 60 points. So for a high schooler to do it in a game that's considerably shorter is pretty greedy.
RELATED: LaMelo Ball hits most savage shot of the season
Ball also tore some of the players, but mostly went after his son who he clearly holds to a higher standard. He specifically went after LaMelo for his lack of defense and how he wasn't even trying to get back across halfcourt for the other team's fastbreaks. Here's the quote from LaVar on LaMelo's horrific defense:
?You are the weakest link we have on defense on the fact that you don?t move. Until you learn to be like your brother and play both ends, we are going to be a sorry team."
This is the game LaVar was referring to where they lost and as you can see, pretty much no defense was played.
That's an incredibly embarrassing effort on defense like LaVar said and he's definitely got plenty of maturing to do before he ends up on a college campus and running a team.
[h/t Uproxx]