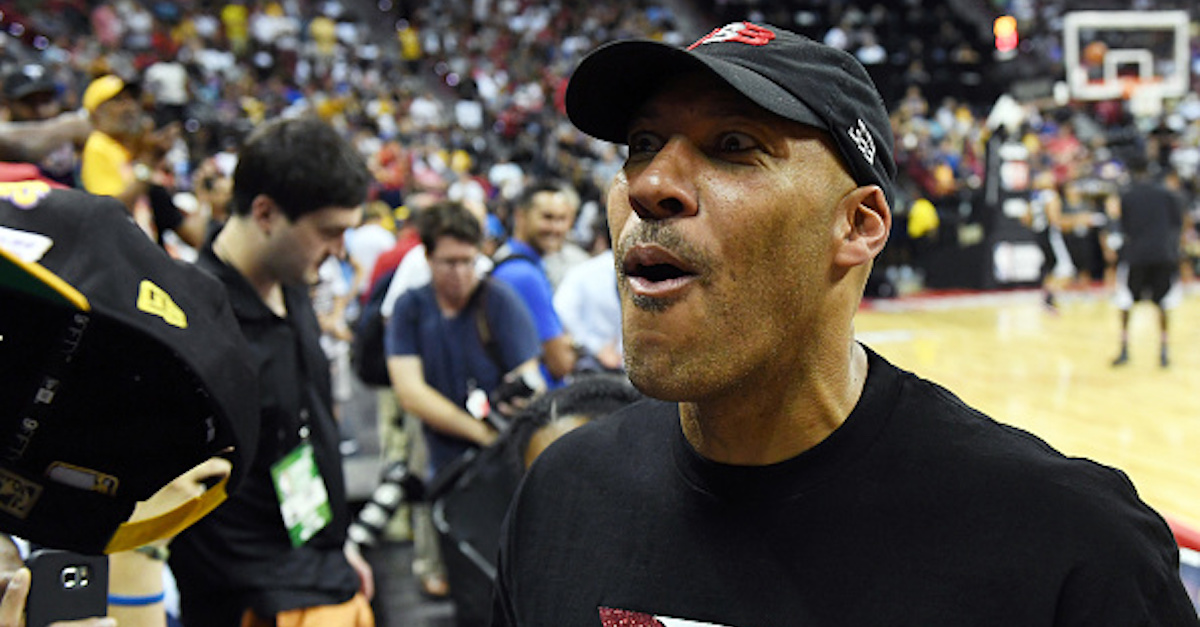 Ethan Miller/Getty Images
LAS VEGAS, NV - JULY 07: LaVar Ball, father of Lonzo Ball #2 of the Los Angeles Lakers, jokes with fans at halftime of a 2017 Summer League game between the Lakers and the Los Angeles Clippers at the Thomas & Mack Center on July 7, 2017 in Las Vegas, Nevada. The Clippers won 96-93 in overtime. NOTE TO USER: User expressly acknowledges and agrees that, by downloading and or using this photograph, User is consenting to the terms and conditions of the Getty Images License Agreement. (Photo by Ethan Miller/Getty Images)
LaVar Ball had a female referee replaced at an Adidas-sponsored AAU basketball tournament in Las Vegas, and the company said they regretted removing the official from the game.
Ball complained about the official and threatened to remove his team from the game unless the referee was replaced. The company said in a statement that it was "the wrong decision."
"The referee substitutions made during our tournament last week are not in line with our company values," Adidas said. "It was the wrong decision. We regret the situation and are looking into the matter to make sure our standards for sportsmanship, equality and fair play are met in the future."
Related: Controversial LaVar Ball has a referee replaced mid-game after he received a technical
Ball, who coaches his son LaMelo for the Big Baller Brand, said he feels targeted by officials. He was given two technicals during the game and ejected, but he refused to leave the court and the game was called.
He went on a rant after the game where he stated the the female official needed to "stay in her lane because she ain't ready for this."
The company that provided the officials, Court Club Elite, decided to end its deal with Adidas after the removal of the official.
It was an ugly situation, and it's highly unlikely Ball will apologize for the incident. It's more likely for situations like that to keep happening given Ball's brash personality.
(h/t ESPN)