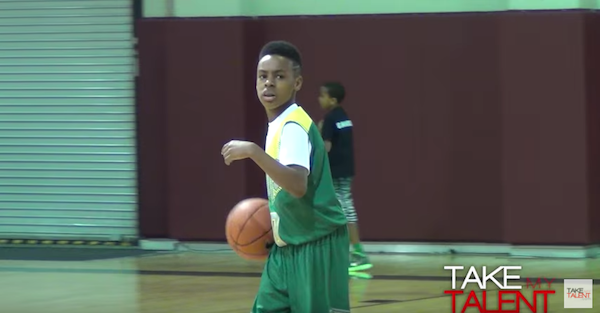 We all know by now that LeBron James Jr. is supremely talented and takes after his dad. He's only 11-years old, but that hasn't stopped schools from offering him a scholarship to play for them in 2023.
RELATED: LBJ Jr. won a championship of his own before dad starts the Finals
It's not only that he's getting offers, but some of the top programs out there are getting in on it too. ESPN.com's Dave McMenamin and Brian Windhorst reported Monday that James has scholarship offers from the Duke Blue Devils and Kentucky Wildcats. You can also count on the hometown Buckeyes offering a scholarship down the road as well considering that's where James senior would have gone if he had actually gone to college.
It would seem that "The King" isn't exactly keen on schools recruiting his kid yet either. "Yeah, he's already got some offers from colleges, it's pretty crazy," said the Cleveland Cavaliers star in February 2015, per Mike Sullivan of CBS Detroit. "It should be a violation, you shouldn't be recruiting 10-year-old kids."
And there are people out there who don't want these kids to have to go through a "one-and-done" phase, but we can't all get what we want.
[h/t Bleacher Report]