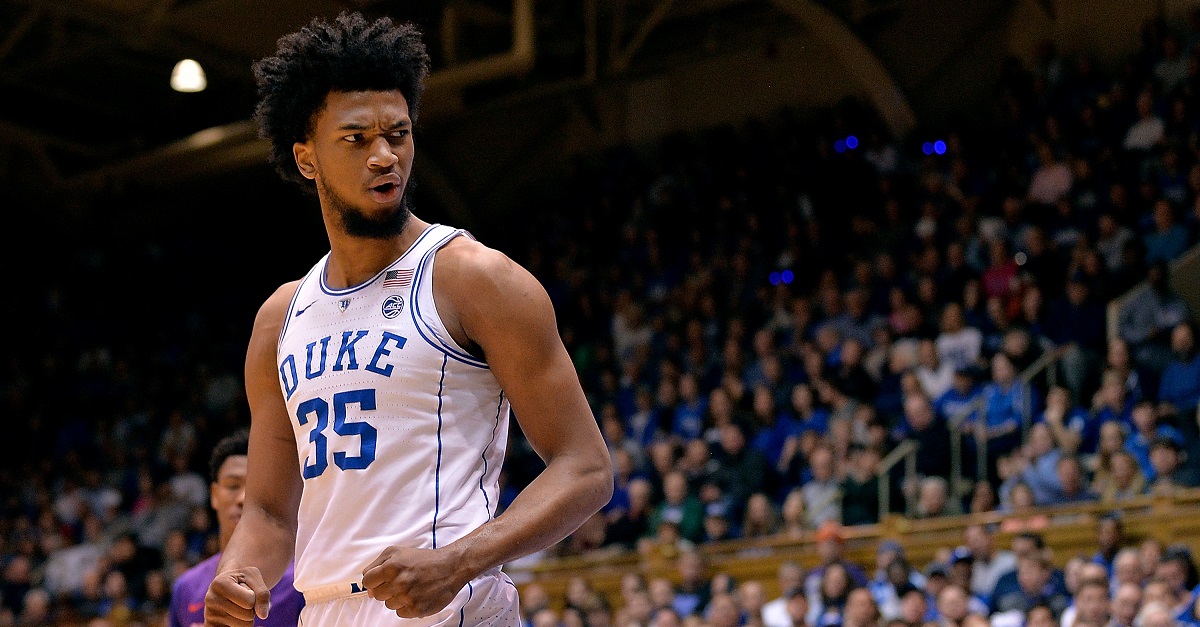 Grant Halverson/Getty Images
DURHAM, NC - DECEMBER 20: Marvin Bagley III #35 of the Duke Blue Devils reacts during their game against the Evansville Aces at Cameron Indoor Stadium on December 20, 2017 in Durham, North Carolina. (Photo by Grant Halverson/Getty Images)
The bigger story coming out of Monday night's game between the Duke Blue Devils and Miami Hurricanes concerns the health of freshman Marvin Bagley. However, let the issue with his shoulder not cloud the fact that the super-freshman set yet another program record.
Early in Duke's game against Miami, Bagley was forced to the locker room with an injury. A college basketball loving nation would later learn that his shoulder popped out of its socket. Bagley would return to the game, but there are no current updates about the status of his injury at the moment.
"I didn't want to move it because I was kind of scared it was going to hurt bad, so as I was walking I kind of moved it up and it kind of went back in," Bagley said in the postgame presser. "I started moving it around and the trainers told me to come to the back and they just checked it out to see if it was anything. I was doing everything good, came back out and finished the game."
Bagley would help the Blue Devils overcome a game Hurricanes squad, 83-75. In the process, Bagley acquired 13 points and 11 rebounds, giving him his 15th double-double on the season, which is now a new Duke freshman record for most double-doubles in a single season.
The record was previously held by Jabari Parker, who is now trotting about NBA hardwoods for the Milwaukee Bucks.
Bagley already set an ACC freshman record by having five 30-point games. He seems to be pretty good at basketball.