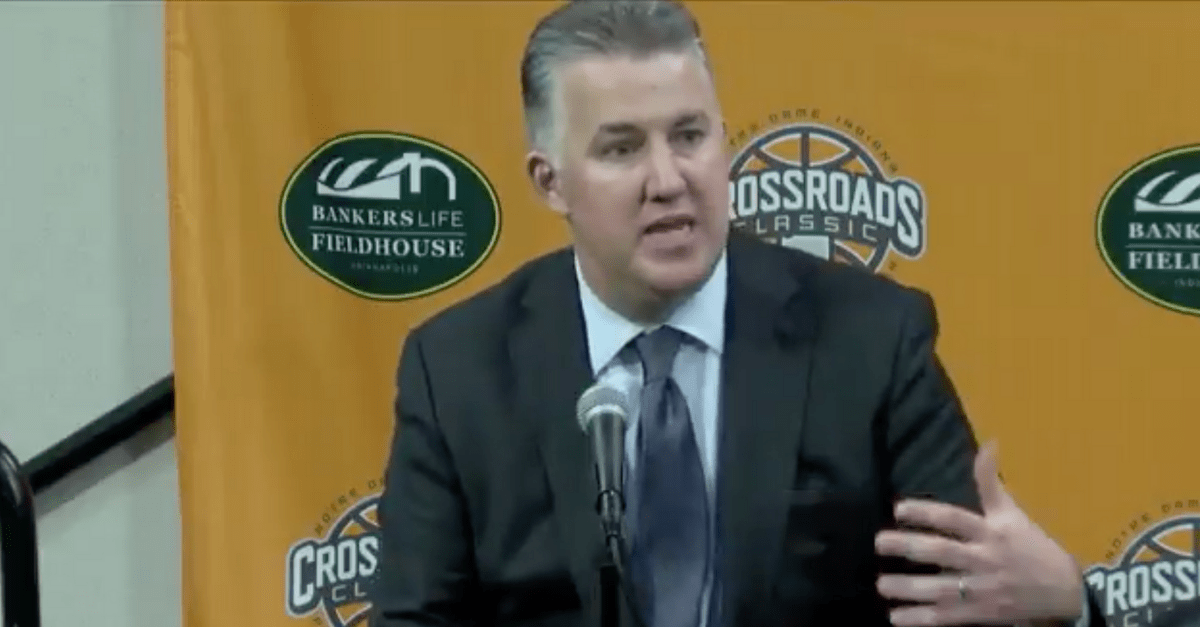 Twitter: @AndrewPogar
Some college coaches use press conferences to market the program. Others take the time to discuss random things. Then there is what Matt Painter did on Saturday afternoon inside Bankers Life Fieldhouse.
It?s no secret the Purdue Boilermakers aren?t having the start to season they would have hoped. Even with preseason All-American point guard Carsen Edwards playing at a high level, wins have been hard to come by. So when the Boilermakers lost 88-80 to Notre Dame in the Crossroads Classic, the veteran head coach decided to use his postgame press conference as a teaching lesson for his team moving forward.
This is a speech every young basketball player needs to hear.
RELATED: The 5 Kentucky Games That Sparked Anthony Davis? Rise to Stardom
Purdue coach Matt Painter could have spent the entire press conference throwing his men?s basketball players under the bus, dissecting the team?s flaws, and making sure the college basketball world knew he wasn?t happy. Instead, he just calmly explained what it takes for each player to be successful moving forward.
?You have to get over yourself. That?s a real hard thing to do? In high school basketball, you know how many points you have in your head. It?s a real selfish thing, but it?s a very natural thing because your whole life, you?ve equated playing well to scoring. Then as you grow in college, and you can get there, you have to normally play a role before you can be a major guy. And sometimes you never get out of that role and you?re always a role player.

?You have to be able to give yourself to the team, but get over those types of things. You?re not going to get on this team if you can just shoot well and that?s it to be able to help us. We need everybody to be able to defend. We need everybody to be able to do other things and right now we?re not very good at that.

?You?ve got to be able to get over yourself and sacrifice. When you look over there and you see guys cheering and giving energy, you?re normally going to go into the game and play better. Those guys that are sitting there being duds and not cheering for their teammate, when you go in there that?s what you?re thinking about. ?I should be in there.? And then when you get the opportunity, you don?t play well. It?s really a maturation process and you?re always going to have a guy or two on your team that way. You just are. That doesn?t change when you are dealing with 19 to 22-year-olds, but you can?t have a lot of them.

?We have a lot of good guys on our team, but we have too many people who are searching for answers through their jumper. You have to search for answers through rebounding, defending, and doing the little things, really scrapping and competing.? ? Purdue Boilermakers head coach Matt Painter
Only time will tell how Purdue will do the rest of the regular season, especially in Big Ten play, to try to make it to the NCAA Tournament again, but Painter?s comments in Indianapolis, Indiana will be the blueprint for how the Boilermakers can start winning more games.