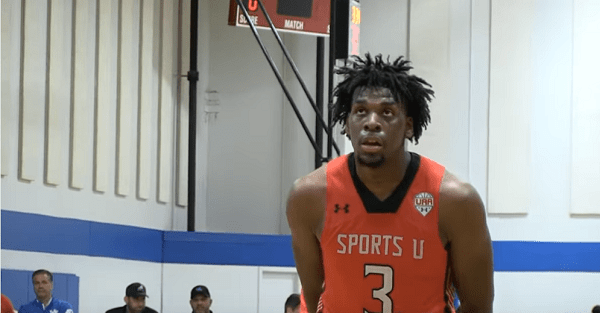 Ball Is Life/YouTube
Ball Is Life/YouTube
Naz Reid is one of the top recruits in the class of 2018 as he's ranked the No. 11 overall recruit by ESPN as well as the No. 6 power forward in the class. Reid spoke to ZAGS BLOG at the NBPA camp held for top talent in the upcoming recruiting class. The 6'10", 240-pound forward said there was one player that he would like to team up with at the next level and that's his Sports U teammate Jahvon Quinerly.
RELATED: Naz Reid knocks off major title contender from top schools list
Quinerly is also a five-star recruit in the class and is ranked as the No. 21 overall player and No. 4 point guard by ESPN. The two have recently cut their respective lists of schools down to seven and share four in common. Those are Arizona, Kansas, Seton Hall and UCLA right now. Regardless of which school they decided to attend, they would immediately become a powerful 1-2 punch as a guard and big man duo that will likely be running pick and rolls like they're John Stockton and Karl Malone.
Here are some of Reid's highlights: