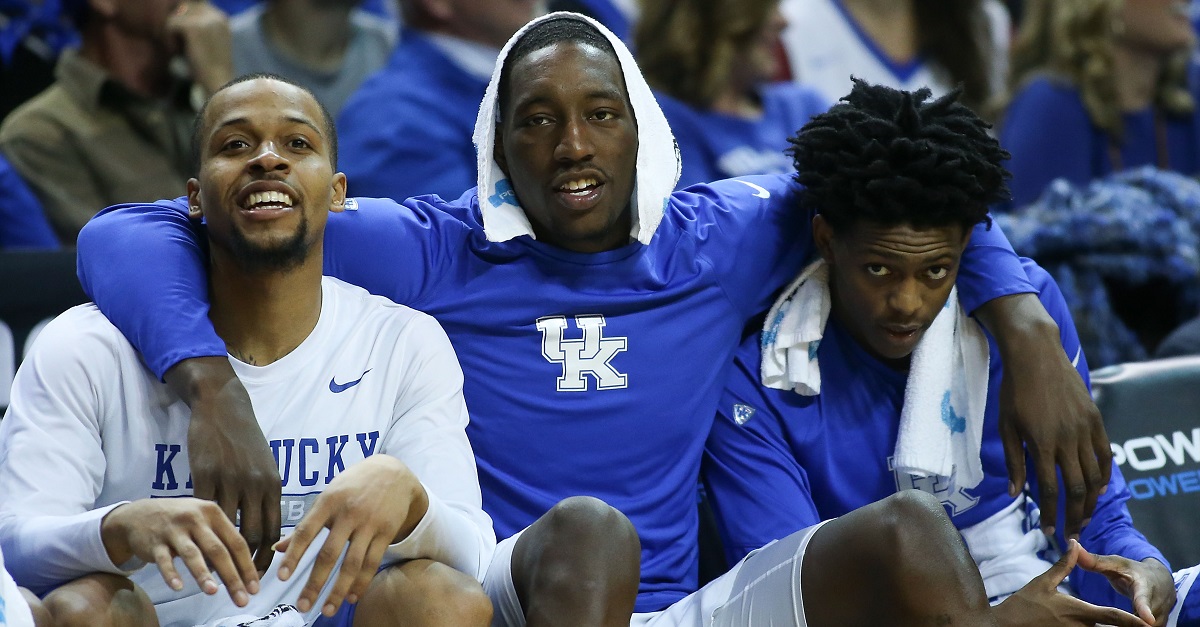 Michael Reaves/Getty Images
NEW YORK, NY - DECEMBER 11: (L-R) Isaiah Briscoe #13, Edrice Adebayo #3 and De'Aaron Fox #0 of the Kentucky Wildcats celebrate on the bench against the Hofstra Pride in the second half of the Brooklyn Hoops Winter Festival at Barclays Center on December 11, 2016 in the Brooklyn borough of New York City. (Photo by Michael Reaves/Getty Images)
John Calipari and the Kentucky Wildcats enjoyed another (very) successful NBA Draft in 2017. The program famous for producing NBA-level talent under their head coach sent three players — DeAaron Fox (Kings), Malik Monk (Hornets) and Bam Adebayo (Heat) — to the lottery and that, by any standard, would be a home run outcome.
However, Kentucky did have another player leave Lexington to enter the draft with eligibility remaining and the result wasn't quite as favorable for Isaiah Briscoe. Now, though, the 21-year-old guard has landed on his feet at least to some extent in picking up a training camp deal with the Portland Trail Blazers.
Briscoe averaged 10.9 points, 5.4 rebounds, 3.7 assists and 0.9 steals per game over the course of two seasons at Kentucky and, when he decided to leave for the NBA, many were skeptical of that choice. Those detractors were given ammunition when he went undrafted but the 6'3, 200-pound guard does have an intriguing defensive profile that a team like the Blazers could covet in the future.
It is very important to note that procuring an invite like this does not guarantee Briscoe anything with regard to a roster spot in the regular season. Still, there is a ray of hope and that is never a bad thing for an NBA hopeful.