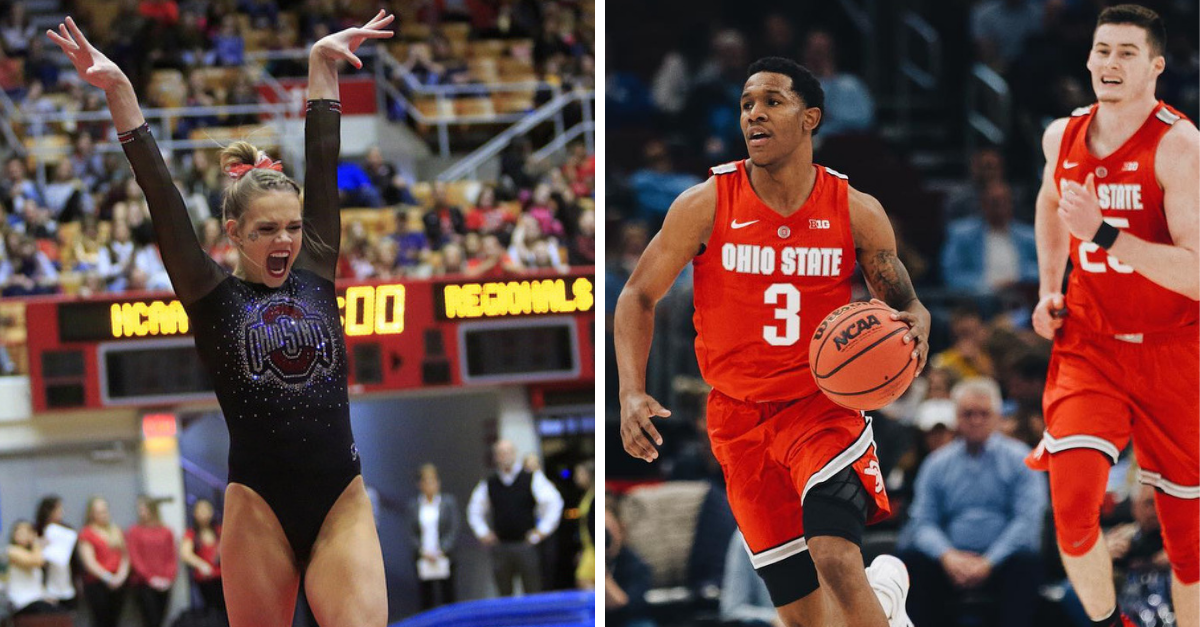 Instagram: ohiostatewgymnastics, ohiostatehoops
Instagram: ohiostatewgymnastics Instagram: ohiostatehoops
As the longest shutdown in the history of the United States government rages on over border wall funding, U.S. government employees are starting to feel the stress of not receiving a paycheck for the first month of 2019. While food and basic necessities become serious points of concern, at least some groups are working to help shift the focus of government workers.
Ohio State University announced on Friday that the athletics department is joining the growing list of organization aiding furloughed federal employees by offering free tickets to all of the university's upcoming sporting event during the shutdown.
According to the university's press release, the gracious gesture from Ohio State athletics allows for two complimentary tickets per event as long as a valid federal government ID is shown. Those eligible events to attend include men's and women's basketball, men's ice hockey, wrestling, women's gymnastics and men's lacrosse.
The free tickets started for the Ohio State men's basketball game against the Maryland Terrapins on Friday night and will continue until the end of the government shutdown.
RELATED: Well, Urban Meyer's New Job Means He's Not Actually Retired Yet
While free tickets to athletic events won't put food on table, gas in their cars, count toward rent and mortgage payments, or pay their light, electric, or cable bills, maybe a few hours away from that stress to see the Buckeyes in action would help curb some of that lingering strain.
As of January 18, here are what federal workers interested in an Ohio State Buckeyes' sporting event would be in store for:
? Led by leading scorer Kaleb Wesson (16.2 ppg.), the Buckeyes' men's basketball team are 12-4 and gearing up for a stretch of games where they'll look to remedy a three-game losing streak with three of their next five games at home.

? After a difficult start to the year, OSU's women's basketball team (7-8, 3-3 Big Ten) is coming off a three-game winning streak, including a 76-71 overtime win on the road over Penn State. They return to Value City Arena to face Maryland on Jan. 24.

? At 13-5-4, the Ohio State men's hockey team are ranked No. 4 in the country with a massive two-game series against No. 12 Notre Dame coming to Columbus to start February.

? The undefeated Ohio State wrestling team (7-0) are the second-ranked team in the nation. Three-time All-American Myles Martin is the top-ranked wrestler in the country at 184 pounds as a MASSIVE matchup against the No. 1 Penn State Nittany Lions, who have won three-straight NCAA titles, is coming to Columbus on February 8.

? Starting their season 1-1, the Ohio State women's gymnastics team are ranked No. 18 in the country and have home meets against Iowa and Nebraska coming in February.

? The Ohio State men's lacrosse team host three preseason games in January before opening their regular season against Cleveland State on February 2 at the Woody Hayes Athletic Center.
Any federal employee can pick up their tickets on the day of the event at the Athletic Tickets Office located in the northeast corner of the Schottenstein Center. Based on availability, they could also be claimed via the athletics ticket office at the event site of your choosing.
Courtesy of WKYC News, here is a list of companies offering freebies and deals during the government shutdown. What a cool way to help the federal government employees who can't help but be affected by the partisan greed taking place in Washington D.C.