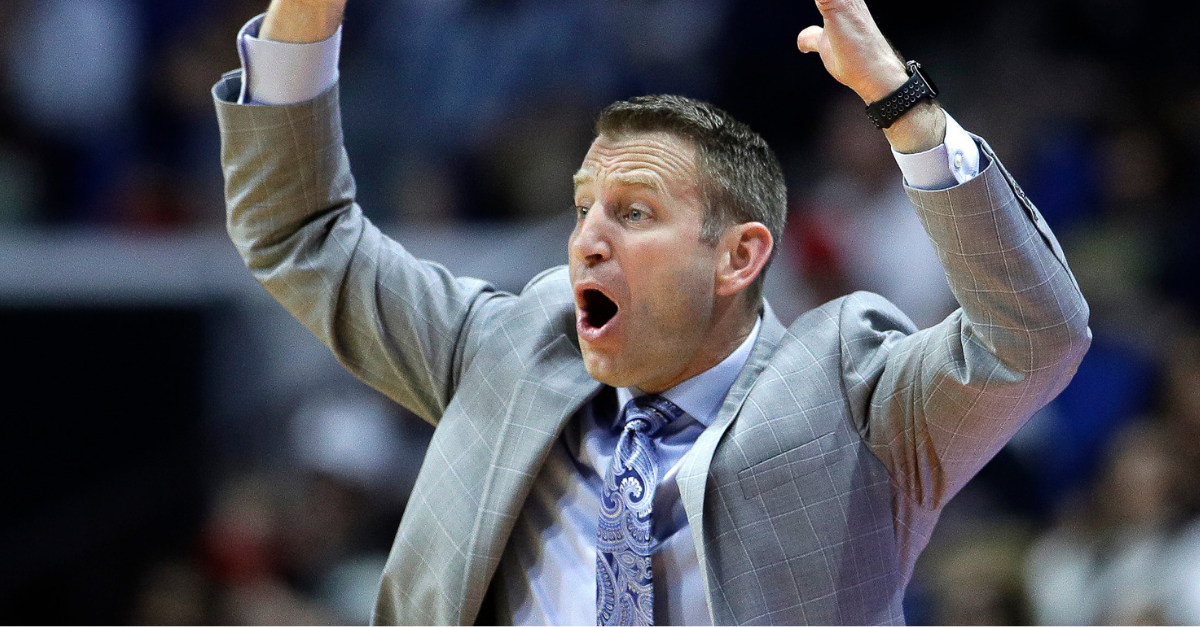 AP Photo/Charlie Riedel
While the Auburn Tigers were busy beating North Carolina and Kentucky to advance to program's first-ever Final Four, new Alabama Crimson Tide head coach Nate Oats was putting in significant work of his own over the weekend as well.
It all started on Friday when the recently-hired Oats was able to talk guard John Petty into taking his name out of the NCAA Transfer Portal and return to Tuscaloosa, which was a huge accomplishment. After all, it was reported that Petty would leave town regardless who the new coach would be.
RELATED: Is the SEC Ready for Alabama?s Nate Oats? They Better Be
Later, and obviously, that statement was recanted. Star freshman point guard Kira Lewis Jr. has yet to decide whether or not he will return to Alabama, but he has met with Oats and was there during the Tide's first workout session, according to AL.com, which sounds like a good sign.
However, that was just a small part of the first-year coach's weekend. Oats and his staff also traveled to Destin, Florida to talk to five-star recruit Trendon Watford. The McDonald's All-American has the Tide in his top-5 with Duke, Memphis, Indiana and LSU.
Some had thought the Mountain Brook, Alabama star had taken the Tide off his list of potential suitors following his official visit in January. There were even rumors swirling that Watford thought the atmosphere around the program under Avery Johnson was toxic, according to AL.com.
However, it appears Oats' visit was a success. Although he couldn't mention the recruit by his name, he talked about the visit vaguely during his first coaches show.
Additionally, Trendon Watford's father, Ernest Watford, seemed impressed with the new Alabama coach.
"[They] stressed the style and speed of play," he told ZAGSBLOG. "They can exploit matchups using Trendon's versatility and impressive playmaking abilities."
Ernest added: "[Trendon] likes the idea that Oats is going to change the culture 'Bama… This guy is pretty damn 'sharp.;"
Over the weekend, Oats also landed his first 2019 commitment from Findlay Prep (NV) big man Raymond Hawkins. The three-star center was also recruited by Oats when he was at Buffalo.
Nate Oats is making a huge impact in less than a week as Alabama?s head coach and, from the looks of it, his first impression has already is leaving a lasting one on a lot of people.