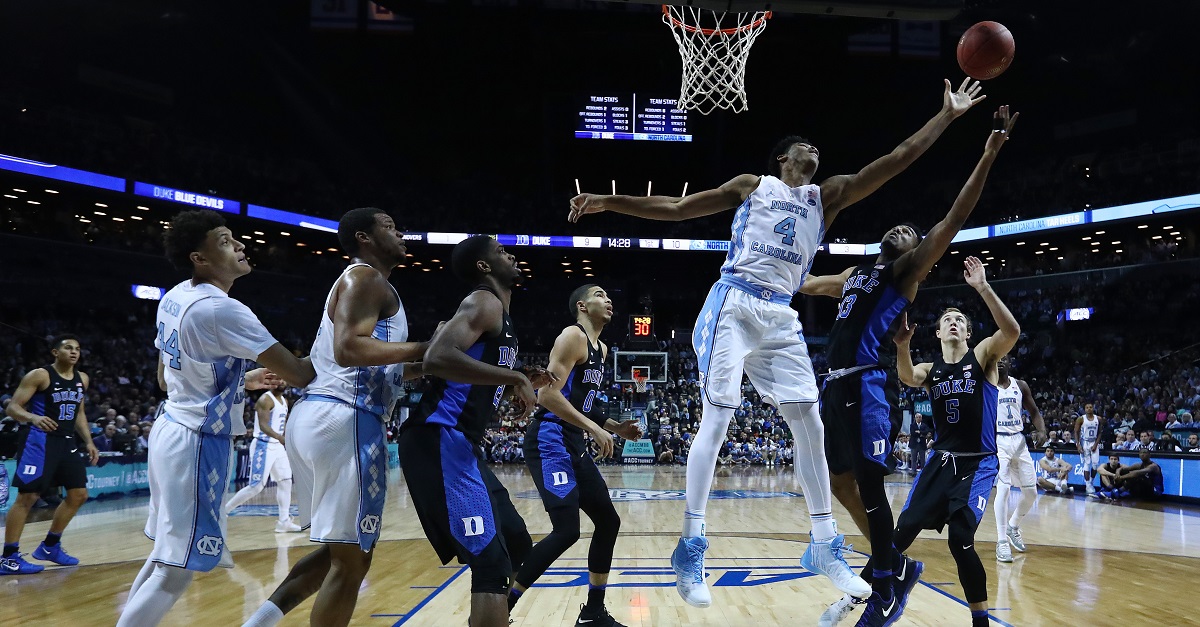 Al Bello/Getty images
NEW YORK, NY - MARCH 10: Isaiah Hicks #4 of the North Carolina Tar Heels and Matt Jones #13 of the Duke Blue Devils battle for the ball during the Semi Finals of the ACC Basketball Tournament at the Barclays Center on March 10, 2017 in New York City. (Photo by Al Bello/Getty Images)
The NCAA Selection Show got cut back down to a half hour show after last year's leaks and that made for a lot smoother show and one people actually wanted to watch. With the reveal came some questions, like who would end up taking the top seeds with Gonzaga suffering a loss before the West Coast Conference tournament and Duke going on a magical run in the ACC Tournament. Would the Pac-12 be left off the top line and would the ACC get two teams?
RELATED: Someone leaked the entire 2016 NCAA Tournament bracket before its release
Now we have the answers as the tournament selection committee has given CBS the full brackets. Here are the top seeds in each region. Here's the East:
Midwest:
South:
West:
Duke being given the No. 2 seed in the East Region actually means they were given the weakest No. 2 seed (so the eighth team overall) despite the incredible run in the ACC Tournament and great finish to the end of the season.
There were many analysts who thought that Duke should have been given a top seed for beating the South's top seed twice this year and the Blue Devils would have made history by having the most losses as a No. 1 seed. Some thought that they could have shared the seed line with UNC or even kicked the Tar Heels off the top line, but it looks like the committee still values the regular season a bit with this decision.
Gonzaga went 32-1 on the season with its lone loss coming to BYU while UNC went 27-7 and won the ACC regular season crown. However, the Tar Heels were beaten by Duke in the semifinals of the ACC Tournament. Duke finished fifth in the conference with a 27-8 record, but went on to win the conference tournament. Arizona won the Pac-12 Tournament and went 30-4 for the season while their main competition in the conference, Oregon, went 29-5 this season.
The reigning champion Villanova went 31-3 and somehow went under the radar, but took the top overall seed thanks to a 12-2 record against teams in the top 50 of the RPI. Now it's time to fill out brackets and let the madness begin.