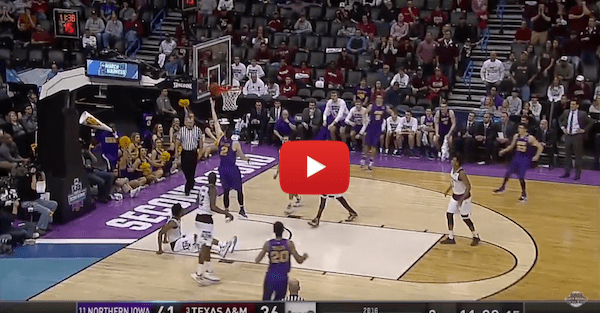 11-seed Northern Iowa already got a huge win over 6-seed Texas and got the privilege to face 3-seed Texas A&M on Sunday. That was as far as they would get though as the Panthers were handed a devastating double overtime loss by the Aggies with a score of 92-88.
Texas A&M made an incredible 14-2 run in the last half-minute of the game. Northern Iowa was unable to properly inbound the ball about three times and gave the Aggies free points. Not even the fans could believe it!
And the Aggie bench was losing its mind too!
I mean, UNI literally could not lose at one point in this game according to this chart:
Unfortunately, stats don't tell the whole story as the Panthers could not pull it out despite some huge games from Klint Carlson who went for 17 points and Jeremy Morgan who had 36 points and 12 rebounds to lead the Panthers in scoring. Neither team shot the ball well as both shot less than 44 percent from the floor and it really looked like UNI got totally gassed at the end as two guys fouled out and the Panthers just had no big shots left in the chamber.
The Aggies keep the SEC in the Tournament and now we can all relax from the madness assuming Oregon takes care of business against St. Joe's (probably a bad assumption). Danuel House had 22 points, Alex Caruso had 25 points and Jalen Jones had 16 points for the Aggies.