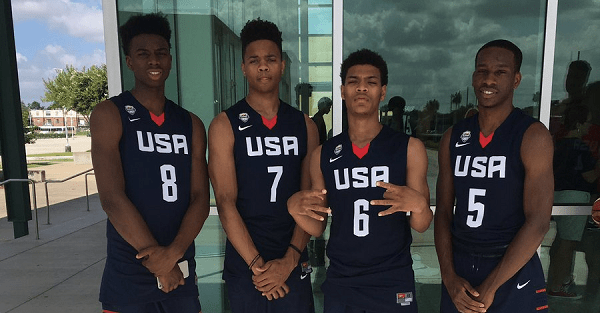 Twitter/@Diallo1Hamidou
Kentucky and coach John Calipari often make headlines for recruiting five-star players that only end up playing college ball for one year. That was thought to be the process for shooting guard Hamidou Diallo when Kentucky picked him up for the 2017 class. However, he reclassified and actually got on campus in January because he graduated early.
RELATED: Hamidou Diallo commits to Kentucky
Diallo never played a minute for the Wildcats despite being available for half the season, but it seems he's confident enough in his abilities and skills to go pro already. He declared for the NBA Draft and will go through the NBA Combine later this month to prove he's worth a first round pick as ESPN analyst Fran Fraschilla has said on Adam Zagoria's 4 Quarter Podcast.
RELATED: Hamidou Diallo decides to go pro
Fraschilla is impressed by his athleticism above all else and that can always get you drafted regardless of what the rest of your skills look like.
?I would not be surprised myself if his combination of athleticism and skill opens some eyes, and then he?ll have a tough decision,? Fraschilla said. ?Do you want to be the 25th pick in this year?s Draft, or do you want to have a chance to maybe be a top-10 pick after your freshman year? I don?t think there?s any question a team will take him in the first round, based on just his age, his size for a guard and that crazy combination of skill and athleticism.?
Draft Express currently has Diallo as the 36th pick in the draft, but the combine could change that drastically.
[h/t Kentucky Sports Radio]