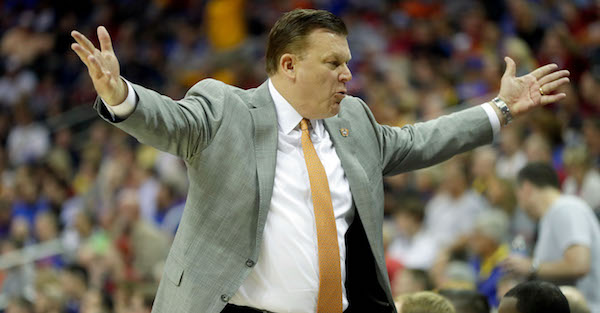 Jamie Squire/Getty Images
KANSAS CITY, MO - MARCH 09: Head coach Brad Underwood of the Oklahoma State Cowboys reacts from the bench during the quarterfinal game of the Big 12 Basketball Tournament against the Iowa State Cyclones at the Sprint Center on March 9, 2017 in Kansas City, Missouri. (Photo by Jamie Squire/Getty Images)
Brad Underwood guided the Oklahoma State Cowboys to an impressive 2016-2017 season that included a close-fought (and wildly entertaining) loss to the Michigan Wolverines in the first round of the NCAA Tournament. Given the fact that it was Underwood's first season on the job, it was safe to assume that bigger things were on the horizon for the head coach in Stillwater but, on Saturday, shocking word broke that Underwood had, instead, accepted an offer to become the head coach at Illinois.
While it is never fun to lose a fast-rising head coach in college basketball, Andy Katz of ESPN brings word that Oklahoma State was doubly stunned by the news… because they didn't see it coming. At all.
Just spoke with an Oklahoma State official and was told Brad Underwood flew back with the team after the Michigan game Friday, landing at 8 pm CT. There was no indication he was leaving. School official was stunned and learned about his hiring at Illinois via twitter.
Since the initial news hit the wire, reports have indicated that Underwood was significantly underpaid in Stillwater and will be receiving a big raise at Illinois. To that end, Dan Wolken of USA Today indicates that Oklahoma State could have potentially done more to keep him on board.
This is, of course, a brutal situation for Oklahoma State and the Cowboys will be forced to search for another head coach just 12 months after hiring "their guy" for the future. This is what happens in college basketball but it certainly won't make things any easier that the administration was caught off guard to this degree.