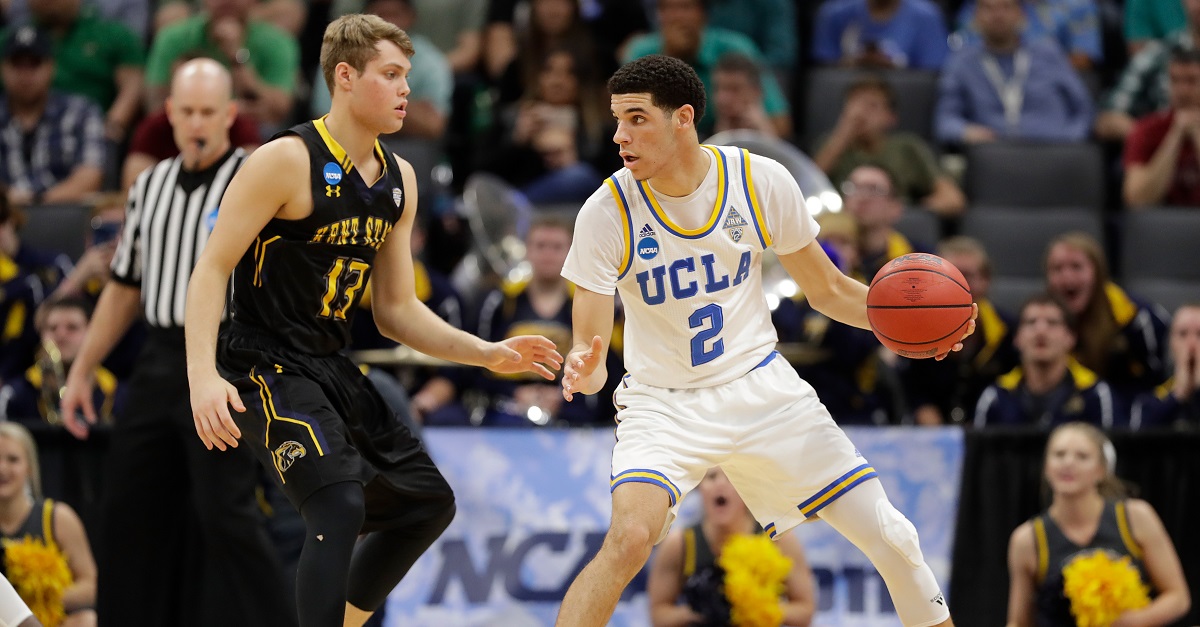 Jamie Squire/Getty Images
SACRAMENTO, CA - MARCH 17: Lonzo Ball #2 of the UCLA Bruins is defended by Mitch Peterson #13 of the Kent State Golden Flashes during the first round of the 2017 NCAA Men's Basketball Tournament at Golden 1 Center on March 17, 2017 in Sacramento, California. (Photo by Jamie Squire/Getty Images)
Former UCLA point guard Lonzo Ball is one of the most intriguing prospects in the NBA Draft, not only because he's actually a great player but because he comes with serious baggage. Any team that drafts him also draft his dad and his horrible attitude and god-awful hot takes.
RELATED: Lonzo Ball's latest decision likely to infuriate NBA teams
However, the likely top five pick does have one team completely "enamored" with him and it's probably the one that makes the most sense. ESPN's Chad Ford is reporting that the Los Angeles Lakers would love to take Ball, assuming he falls to them.
However, if the Lakers don't get a top-three pick then they definitely won't get him because they will be forced to give the pick to the Philadelphia 76ers as part of an earlier trade. Ball has said on a few occasions that he would love to join the Lakers and they could use him as he is a complete playmaker who averaged 14.6 points, 1.8 steals, 7.6 assists and six rebounds a game while shooting 41.2 percent from beyond the arc and 55.1 percent overall.
[h/t SI.com]