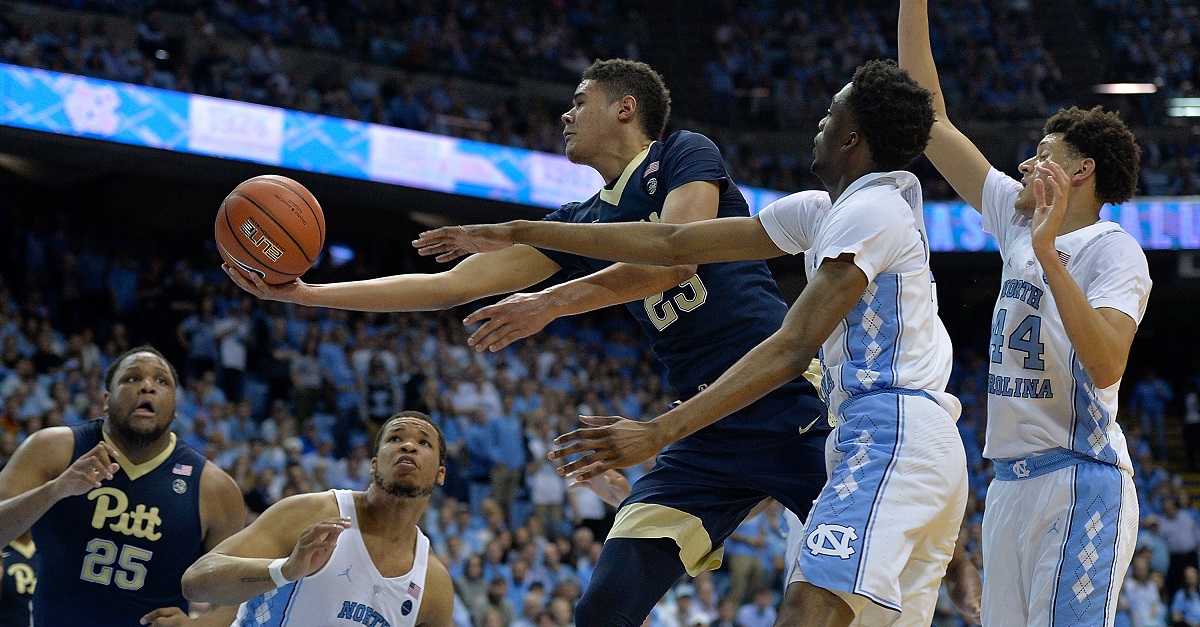 Grant Halverson/Getty Images
CHAPEL HILL, NC - JANUARY 31: Cameron Johnson #23 of the Pittsburgh Panthers drives past Brandon Robinson #14 of the North Carolina Tar Heels during the game at the Dean Smith Center on January 31, 2017 in Chapel Hill, North Carolina. (Photo by Grant Halverson/Getty Images)
Cameron Johnson is possibly the most sought after graduate transfer in college basketball right now because he finished with a degree in only three years and that was using a redshirt year. So he will be a junior wherever he ends up and he can play right away because he's a grad transfer, unless he goes to ACC school. Pittsburgh and coach Kevin Stallings are forcing Johnson to sit a year if he goes to any other ACC school despite the fact he put in his time and graduated.
RELATED: Cam Johnson reportedly visiting UNC
Johnson spoke about a potential timeline on making his decision and it sounds like he is really waiting and hoping that Pitt will change its mind and let him play immediately for an ACC school.
?I don?t have a solid drop-dead date on anything, but I?m getting a little closer with my decision-making process and I anticipate something sooner rather than later, in terms of progress with my decision and the situation with Pittsburgh,? he told InsideCarolina.com. ?If there?s some progress with Pittsburgh that will mean something, and if there?s not then that will mean something too.?
Johnson also spoke about his visit to UNC — the school that he's reportedly been favoring for some time now — and it sounds like he had a pretty good time. He got in on some pickup basketball and played with some of the current guys at the school.
I already knew all this, but Joel (Berry) is a very good point guard. He can shoot, score and defend. I think I got along well with him. Same with Luke (Maye) and Theo (Pinson) also. We were all on the same team. I think it?ll definitely work out well on the court if the opportunity arises to play there.?
Johnson averaged 11.9 points, 4.5 rebounds and 2.3 assists last season at Pittsburgh and is also considering Kentucky, Arizona, UCLA and Oregon among others.
[h/t ZAGSBLOG]