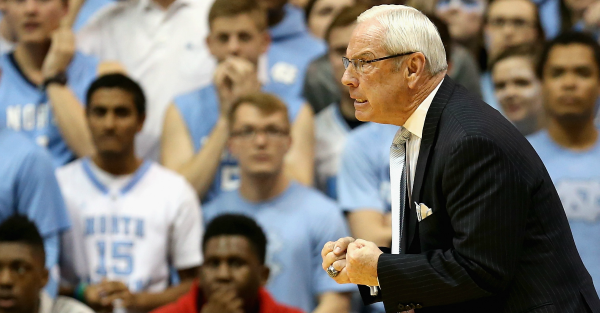 North Carolina played the first of its two games against Duke this season on Wednesday night and came out of it with a disappointing loss. The Tar Heels had the last shot of the with about 20 seconds on the clock and three timeouts hanging out in Roy Williams' back pocket. Derryck Thornton got a block on Joel Berry's last-second shot to seal the 74-73 win.
Most people on Twitter were absolutely ripping Williams for not using a timeout considering he had three and really should have drawn up a play for the last possession. The Tar Heels had been struggling on offense for the last quarter of the game — they scored only 11 points over the last 11 minutes of the game — and didn't get the big men involved who were actually scoring for them.
Marcus Paige and Joel Berry were a combined 4-22 shooting from the field yet Berry got the last shot of the game. That makes zero sense and Williams definitely owes some UNC fans an apology and some semblance of an explanation.
"Coach Smith taught me — and I believe this, I'm not blaming it on Coach Smith, it's my call," Williams said. "I think you should always attack before the defense gets set. I've always believed that, always taught that, the way I've always played. I told the kids I should've called the timeout."
The problem with that in this game was that UNC initially got penetration into the lane but couldn't get anything going. When Berry pulled the ball back out there was about seven seconds on the clock and that would have been enough time to get a decent play run out of a timeout. And then Williams would have even had two timeouts in case his team couldn't inbound the ball.
Williams doubled down on his stance and says he would do it all over again too. "We didn't get as good of a shot as I thought we would get but that something I've always believed in," Williams said. "I say it's my fault. If we had to do it all over again tomorrow night I'll probably do the same thing cause I think that's the best way to play."
I wouldn't have done it that. Call the timeout, get a play for either Paige or Brice Johnson — who had 29 points and 19 boards — and get your team settled. The offense was stagnant for the last ten minutes of the game so having a play that would more than likely work out of a timeout probably would have helped significantly.
The two teams will meet again for the last game of their respective seasons on March 5.