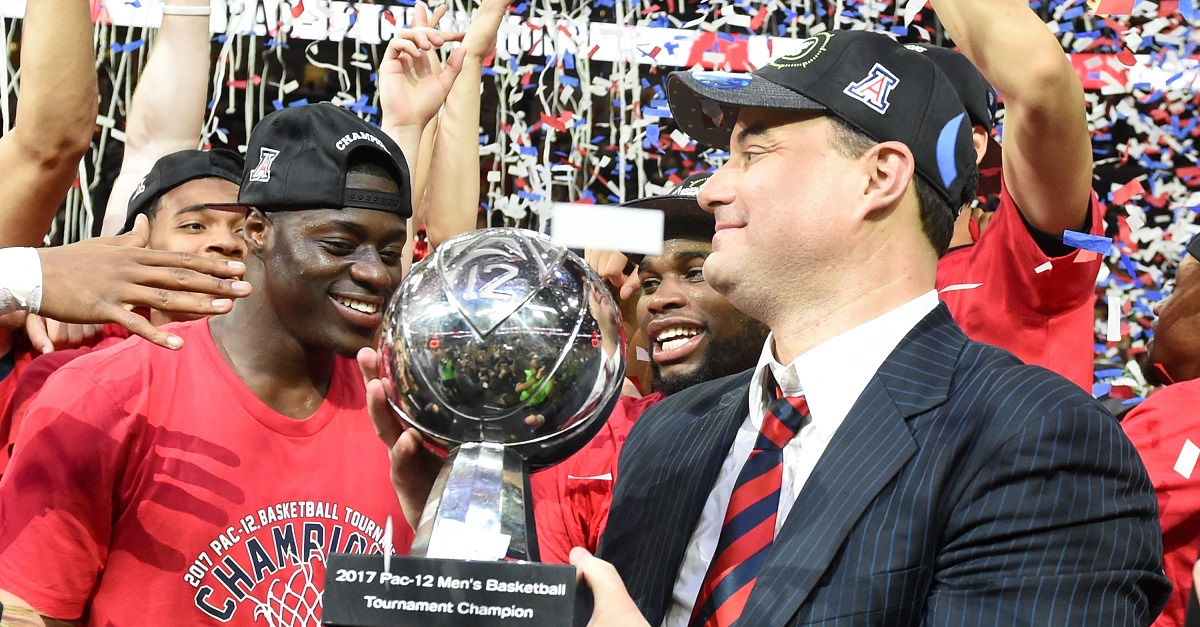 Ethan Miller/Getty Images
LAS VEGAS, NV - MARCH 11: Rawle Alkins #1 and head coach Sean Miller of the Arizona Wildcats celebrate with the trophy after defeating the Oregon Ducks 83-80 to win the championship game of the Pac-12 Basketball Tournament at T-Mobile Arena on March 11, 2017 in Las Vegas, Nevada. (Photo by Ethan Miller/Getty Images)
FBI wiretaps picked up a telephone conversation between Arizona coach Sean Miller and Christian Dawkins — who the organization was investigating due to alleged basketball corruption — discussing a $100,000 payment to Deandre Ayton, sources with the government's evidence confirmed to ESPN on Friday.
In that light, he will not coach Saturday:
After the news broke, ESPN's Jay Bilas tore into Miller, acknowledging he can't see him coaching ever again.
According to the sources, Miller had multiple conversations with Dawkins — who worked as a runner for ASM Sports agent Andy Miller — regarding Ayton prior to him joining the Wildcats.
Per ESPN:
"According to people with knowledge of the FBI investigation, Miller and Dawkins, a runner working for ASM Sports agent Andy Miller, had multiple conversations about Ayton. When Dawkins asked Miller if he should work with assistant coach Emanuel "Book" Richardson to finalize their agreement, Miller told Dawkins he should deal directly with him when it came to money, the sources said.

"The telephone calls between Miller and Dawkins were among 3,000 hours of conversations intercepted from Dawkins' phone by the FBI."
Ayton, a former 5-star prospect, is a serious contender for the Naismith College Player of the Year award and is projected as a potential No. 1 overall pick in the 2018 NBA Draft, according to NBADraft.net.
The 7-foot-1 Bahaman center is averaging 19.6 points and 10.9 rebounds per game, leading the Wildcats to a No. 14 overall ranking and the top ranking in the Pac-12 standings with three games remaining.
Richardson, who has worked alongside Miller for the last 10 seasons at both Xavier and Arizona, was among the four assistant coaches arrested on Sept. 27 following a two-year FBI investigation into bribery and corruption in NCAA basketball.
The assistant is accused of accepting $20,000 in bribes, as well as paying prospects to sign with Arizona. Additionally, Richardson — who was formally fired by the university on Jan. 11 — would influence Wildcats players to sign with Dawkins and financial adviser Munish Sood — who was also arrested by the FBI following the investigation — in exchange for the money financed by Dawkins.