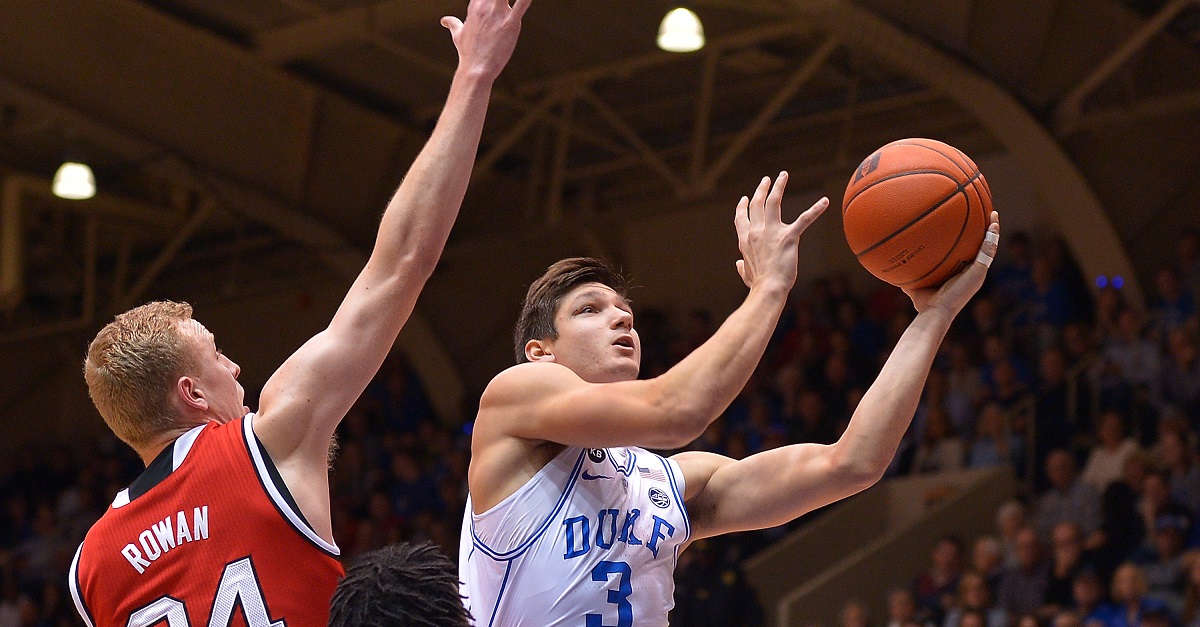 Grant Halverson/Getty Images
DURHAM, NC - JANUARY 23: Grayson Allen #3 of the Duke Blue Devils drives between Maverick Rowan #24 and Ted Kapita #23 of the North Carolina State Wolfpack during the game at Cameron Indoor Stadium on January 23, 2017 in Durham, North Carolina. (Photo by Grant Halverson/Getty Images)
ESPN's in-studio crew for college basketball is top notch with guys like Jayson Williams, Seth Greenberg and Rece Davis all talking about ball throughout the season. Williams is of course a former player and Greenberg is a former coach so we definitely get opinions from both sides of any debate. However, Greenberg went absolutely too far with one tweet about Grayson Allen and all of the incidents he has been involved with this season.
RELATED: Grayson Allen gets caught in the middle of more drama against N.C. State
Greenberg went so far as to suggest that Allen should shut down his season, not because of any injury but because he's "not himself."
Are you kidding me? Maybe he's distracted by the fact that his coach isn't on the sideline right now or perhaps he isn't himself because he's being forced to play point guard, which he hasn't really ever done. Greenberg then tried to justify his stance with these tweets:
Fellow analyst and CBS competitor Seth Davis couldn't believe Greenberg would ever say something like that:
And Greenberg promptly got crushed by Twitter for his terrible hot take:
There were plenty more tweets about how he's sending the wrong message of quitting when things get tough, but no kid is going to quit playing even for half a season just because he is struggling, especially in college when his scholarship could depend on it.
RELATED: Louisville player gets revenge on Grayson Allen for all the players he's ever tripped
Allen is averaging 15.1 points, one steal, 3.9 assists and 4.4 rebounds per game while shooting 31.6 percent from three-point land and 39.4 percent from the floor. He's had to play without guys like Jayson Tatum, Marques Bolden and Harry Giles at times and was suspended for a game for his tripping antics. I would be a little distracted too playing for Duke this season, but Allen has a chance to right the ship on Saturday when the Blue Devils host Wake Forest.
[h/t The Spun]