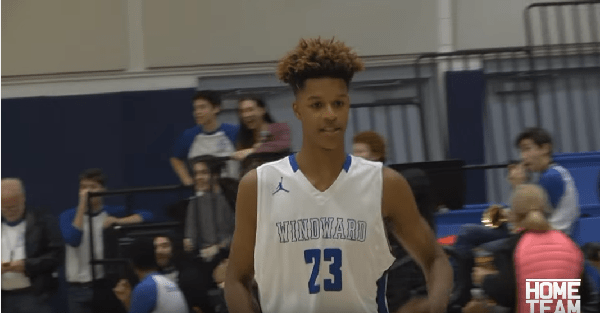 It's no surprise that Shaquille O'Neal's son, Shareef, is going to get a ton of college offers. He is considered a four-star power forward and has plenty of time to improve that ranking. He is undoubtedly learning some moves from his old man and should be getting some help bulking up — he is 6'9″ and weighs less than 200 pounds.
It makes sense that the younger O'Neal would seek out some of his dad's buddies to work out with and try to get better by learning from them and playing against them. However, there was one guy that the Big Diesel played with who no one thought would ever try to help him again after their nasty divorce on the court. Kobe Bryant is apparently going to help the "little fella" out.
TMZ caught up to Shareef and asked about potentially training with the recently retired Bryant.
"I talk to Kobe sometimes," said Shareef (transcribed by Yahoo's Dan Devine). "I might start training with him, because during Toronto All-Star [Weekend back in February], he was talking about [how] I need to train with him. […] Yeah, I'mma start training with Kobe soon, probably this summer. […] If we play one-on-one, I'mma try to win."
That sounds like it might have been a throw away line from Bryant, but the young man should take him up on the offer. The worst thing that happens is he gets his butt kicked by a living legend and gets some nice stories out of it. The best case scenario is that he actually learns a few things and raises his profile for the scouts and earns a five-star designation. It can't hurt, right? And maybe we'd get some Kobe-Shaq team up moments too.
O'Neal currently holds offers from local colleges USC and UCLA. He plays for the Windward Academy in Los Angeles.