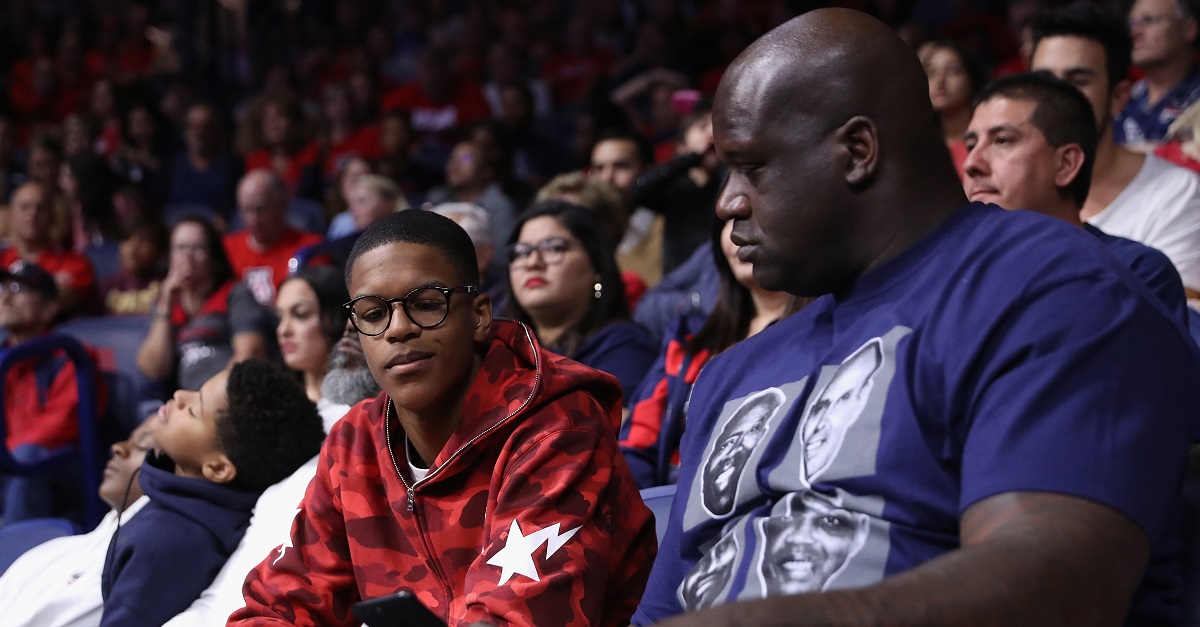 Christian Petersen/Getty Images
TUCSON, AZ - NOVEMBER 18: NBA legend Shaquille O'neal (R) and son Shareef attend the college basketball game between the Arizona Wildcats and the Sacred Heart Pioneers at McKale Center on November 18, 2016 in Tucson, Arizona. (Photo by Christian Petersen/Getty Images
Son of NBA legend Shaq, Shareef O'Neal, is one of the top recruits in the country as he's rated a five-star power forward by ESPN. While that's quite high and is a very good ranking, that's usually not quite good enough to guarantee a recruit will go "one-and-done" and get picked high in the next NBA Draft. However, the younger O'Neal is claiming that he will only be at Arizona — where he's committed to already — for one year before going pro.
Even his dad wasn't quite good enough to do that and he's a Hall of Famer! He spent three years at LSU before becoming the No. 1 pick in the 1992 draft. But the culture has changed drastically since then as no high schoolers can enter the draft and players only have to stay in college one year or be one year removed from high school graduation.
The 6'9″, 205-pound O'Neal will get a chance to play at a much better school than his dad though and show that he's talented enough to make his claim come true.
[h/t DieHards.com]