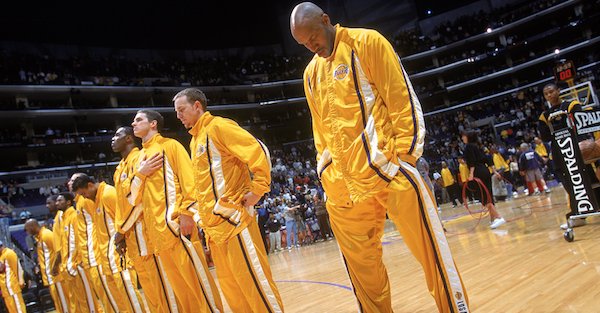 Robert Laberge/Getty Images
Robert Laberge/Getty Images
It seems like yesterday that we watched Ron Harper run up and down the hardwood along some of the NBA's greatest players.
The No. 8 overall pick by the Cleveland Cavaliers in the 1986 NBA Draft, Harper helped Michael Jordan and Scottie Pippen win three championships with Chicago before winning two more titles with Shaquille O'Neal and Kobe Bryant in Los Angeles.
Now, Harper's son, Ronald Harper Jr, is taking the next step in his basketball career.
Harper Jr, a 6-foot-6, 200-pound shooting guard at Don Bosco Prep, committed to Rutgers University on Friday, giving the Scarlet Knights their fourth commit in the 2018 recruiting class. Rutgers now sits at No. 10 in the 247Sports composite team rankings.
It took fewer than 24 hours for Harper Jr to announce his decision. He fielded a scholarship offer from Rutgers while he was on campus Thursday, and he decided he had seen enough and joined the class.
He'll team up with 4-star shooting guard Montez Mathis, 3-star center Mamadou Doucoure, and 3-star point guard Mac McClung.
"I loved it. I thought Rutgers was a great place. And it's in New Jersey so my family and friends will get to see me play," Harper Jr told 247Sports. "And I loved the environment. The people are so friendly. When I met the coaches, it felt like I knew them for more than a day. It felt like I knew them for years."
Harper Jr is currently unranked in 247Sports' system, but he does hold other notable offers from Nebraska and Miami University, his father's alma mater.
[h/t The Spun]