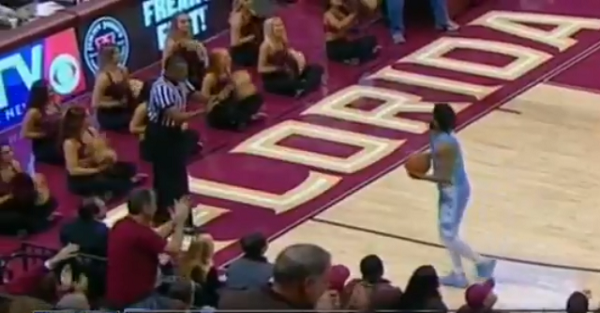 @JeffJonesSports/Twitter
@JeffJonesSports/Twitter
Teddy Valentine is a college basketball referee you know, even if you don't know the name. Not in a nice way as he's dubbed "TV Teddy" Valentine, the official once again stole the show on Wednesday evening.
In a great game featuring top-25 ranked teams in the North Carolina Tar Heels and Florida State Seminoles, TV Teddy twice did something that should make your head explode.
The first of the two is a bit difficult to figure out what exactly is happening. Outside of Valentine doing his thing, we aren't sure what actual words are coming out of his mouth.
As for the second incident, you can see the ref clearly ignoring UNC's Joel Berry, despite the Tar Heels talent just looking for some clarification.
That's some high-level, unneeded tomfoolery from TV Teddy.
The reaction that resulted from this entire debacle was as expected.
Most people who have consumed college basketball enough know of Valentine. There's good reason for his nickname, as it has been earned.
Florida State (12-2, 1-1 Atlantic Coast Conference) led most of the game, including the final 8:12. While you can argue that the official played a hand in this mess, North Carolina still had ample chances at taking the lead toward the end of the game.