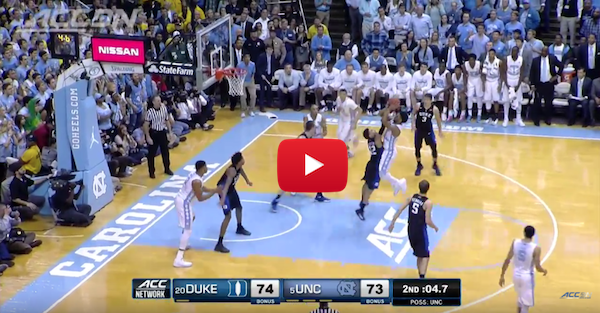 No. 5 UNC (21-5, 10-3) hosted No. 20 Duke (20-6, 9-4) and one of the best games of the season. One of the best rivalries in sports took another step toward the historical with a phenomenal 74-73 Duke win despite not having Matt Jones — a bad ankle injury ended his game prematurely — or Amile Jefferson.
Freshman Brandon Ingram played like anything but that with a 20-point and 10-rebound double-double. Grayson Allen had 23 big points and had two clutch free throws at the end to give Duke the lead with under a minute to play. Luke Kennard also had 15 points off the bench, but it was Derryck Thornton with a huge block on the last possession of the game to make sure UNC didn't get any good looks for a last-second buzzer-beater.
UNC's Brice Johnson was an absolute monster posting a double-double before halftime and he finished with 29 points and 19 rebounds. Justin Jackson had 13 points and grabbed eight boards while Kennedy Meeks had six points and six boards to round out the starting frontcourt. The guard was atrocious the last ten minutes of the game and the guards were not only not feeding the big men who had gotten them the lead in the game, but were jacking up bad shots and deflating the ball by dribbling too much.
It was a classic Duke-UNC game and one that will help the Blue Devils get a nice seed in the NCAA Tournament and proves just how crazy this season has been. Anything is possible and that's what makes college basketball so freaking awesome!