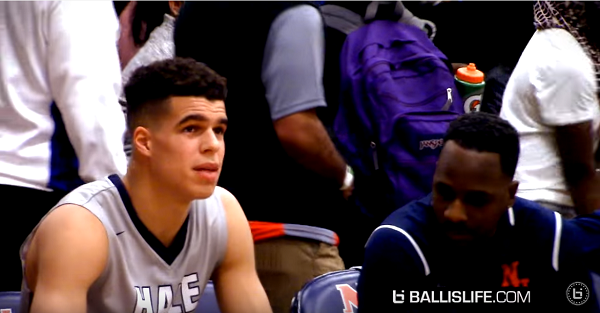 YouTube/Ball is Life
The big risk of a coaching change is that you could lose the top recruits that committed to that coach. Usually they aren't as severe as this example, though.
Washington fired head basketball coach Lorenzo Romar on Wednesday, ending what had been a 15-year tenure for Romar with the Huskies. Where things get interesting now, though, is the state of Washington's recruiting class, which includes No. 1 overall recruit Michael Porter Jr. The current belief is that Porter Jr. — a 6-foot-10 small forward — will find a new school, and an interesting destination is rumored for Porter Jr.: Missouri.
Why Missouri? They just hired his father, Michael Porter Sr., as an assistant coach under new head coach Cuonzo Martin.
247Sports is reporting that Porter Jr. and his five-star brother Jontay are expected to join their father at Missouri. Eric Bossi of Rivals expressed that same possibility.
If that does happen, Missouri would immediately have one of the best rosters in college basketball for the 2017-18 season, and it would give the program a fresh breath of life under the new coaching staff.
As for Washington, they have a lot of rebuilding to do. The Huskies where 9-22 this season, including 2-16 in Pac-12 play. This was despite the efforts of guard Markelle Fultz, who is expected to be a top pick in this year's NBA Draft.